Education
---
Astronaut Metcalf-Lindenburger Inspires Girls
Written by: developer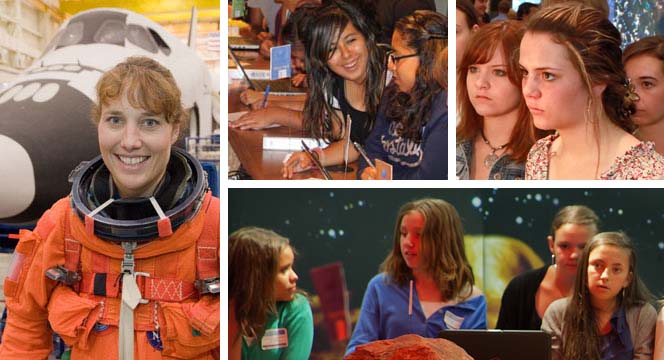 Astronaut Dorothy "Dottie" Metcalf-Lindenburger was the headliner at Girls STEM Day on Sept. 28 at CSU- Pueblo, an educational event sponsored by the Space Foundation and Colorado State University-Pueblo (CSU-Pueblo) and co-sponsored by El Pomar Foundation, the Women's Foundation of Colorado and the Pueblo Marriott.
At the event, more than 125 6th-8th grade girls, many of whom were from rural areas of southern Colorado, participated in science, technology, engineering and mathematics (STEM)-related mini-workshops presented by the Space Foundation education team and the CSU-Pueblo engineering department. Space Foundation mini-workshops comprised hands-on activities covering robotics, rocketry, astronomy and biology. The event was designed to interest middle-school-aged girls in STEM subjectsand to inspire them to pursue careers in those fields.
About Metcalf-Lindenberger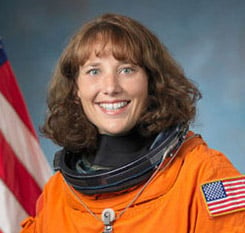 Metcalf-Lindenburger taught high school Earth science and astronomy in Vancouver, Wash., before being selected as a mission specialist by NASA in 2004. After completing astronaut training, she served as the Astronaut Office Station Branch lead for systems and crew interfaces. In 2010, she was on the crew of the STS-131 resupply mission to the International Space Station aboard the Space Shuttle Discovery. In 2012, she commanded NASA's 12-day NEEMO 16 exploration mission aboard the Aquarius undersea laboratory.
Metcalf-Lindenburger, who grew up in Fort Collins, Colo., has a bachelor's degree in geology from Whitman College, Walla Walla, Wash., and her teaching certificate from Central Washington University, Ellensburg. She has completed 19 marathons, including the Boston Marathon in 2004, and is the lead singer with the all-astronaut rock band, "Max Q.'" The first Space Camp alumna to become an astronaut, she has logged 362 hours, 6.2 million statute miles and 238 orbits in space.
Education Programs Support STEM
The program was part of a partnership between the Space Foundation and CSU-Pueblo that promotes STEM education in southern Colorado. See more about Space Foundation education programs and partnerships here.
This article is part of Space Watch: October 2012 (Volume: 11, Issue: 10).
---
Posted in Education