Report from Headquarters
---
New Team Members Join Space Foundation
Written by: developer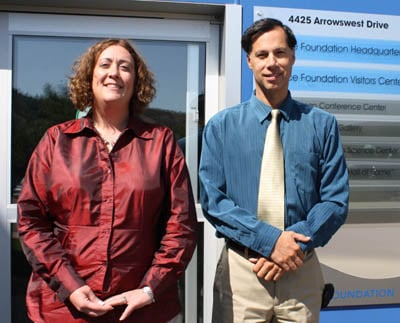 The Space Foundation recently welcomed two new team members at its world headquarters in Colorado Springs, graphic designer Phil Nowicki and space education specialist Amy Robinson.
About Nowicki
Phil Nowicki's background includes design positions with The Johns Hopkins University Applied Physics Laboratory, AMI Industries, USWest Dex, Impact Confections and nearly 15 years with Current, Inc. and Paper Direct, Inc. He has designed a wide variety of marketing materials and products – from intricate technical illustration and diagrams to greeting cards, brochures, catalogs, manuals, packaging, product design and more. He is also an accomplished artist and illustrator. He earned a Bachelor of Science degree in advertising design from the University of Maryland, College Park, Md.
About Robinson
Amy Robinson is responsible for the development and implementation of curriculum supporting science, technology, engineering and mathematics (STEM) and cross-curricular education including: Space Across the Curriculum, Space in the Classroom, STARS, Xplore Space, the National Space Symposium, New Horizons and Wonders of the Universe courses using Science On a Sphere®, located at the Northrop Grumman Science Center within the Space Foundation world headquarters. She also supports the efforts of Space Foundation education partners across the country and around the world.
Before relocating to Colorado from Alaska, Robinson created, implemented and managed education programming at the state's largest science center, The Imaginarium. She also spent seven years teaching sixth grade science. Robinson earned her bachelor's degree in communications with elementary education licensure from the University of Colorado. She is currently obtaining her master's degree in education/education leadership from Adams State University, Alamosa, Colo.
This article is part of Space Watch: October 2012 (Volume: 11, Issue: 10).
---
Posted in Report from Headquarters