Space Foundation News
---
Space Foundation Visitors Center to Open this Month
Written by: developer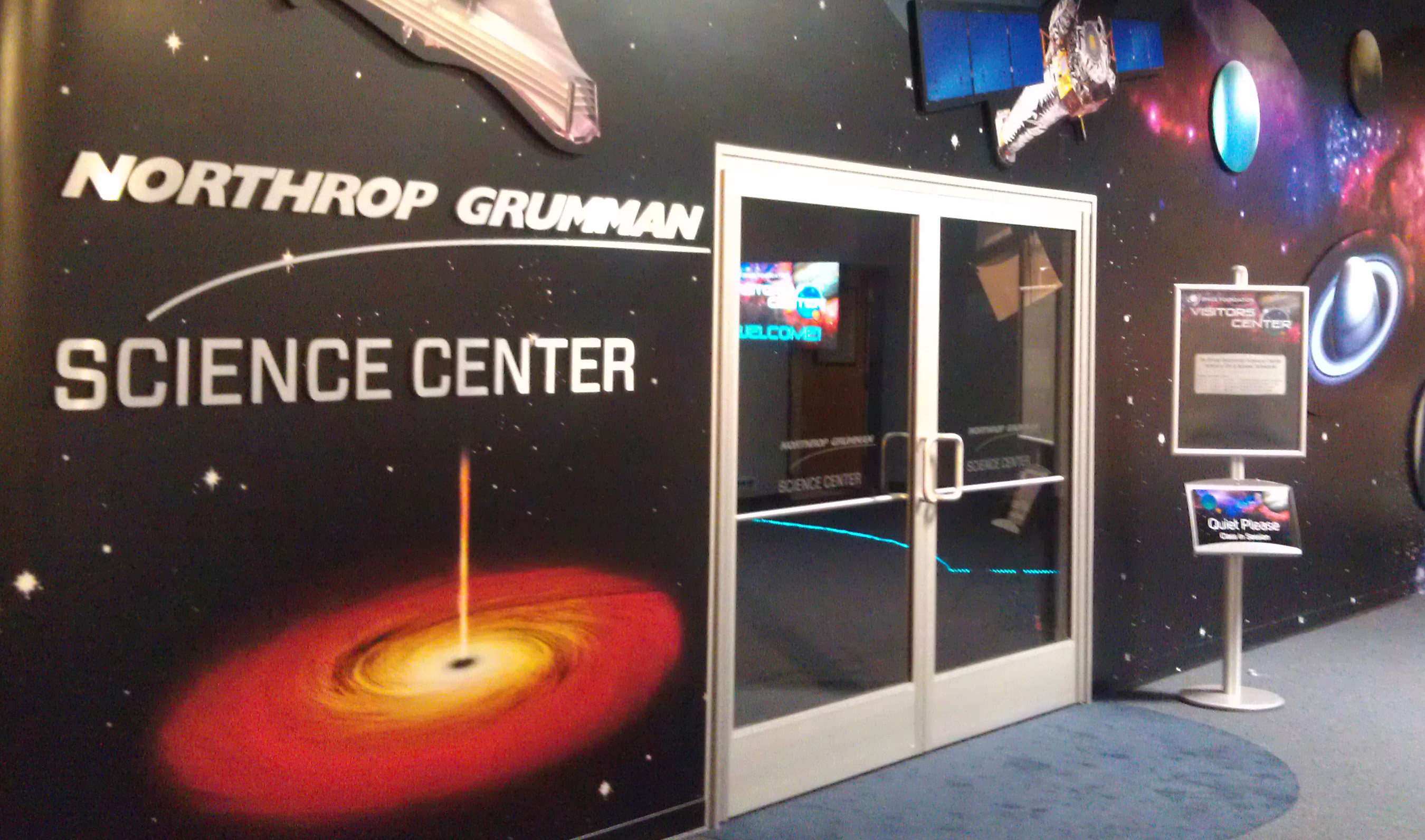 On Oct. 5, the Space Foundation realizes a long-time dream with the official ribbon cutting of the Space Foundation Visitors Center, which comprises the Northrop Grumman Science Center, featuring Science On a Sphere®, and the El Pomar Space Gallery. This event will be one of our many World Space Week activities.
The invitation-only VIP event, which marks the first official event at the Visitors Center, will be followed by a special family day at the Visitors Center for Colorado Northrop Grumman employees on Oct. 6 that the Space Foundation is hosting as a thank you for the donation that made the Northrop Grumman Science Center possible. An overview of the ribbon cutting and Northrop Grumman Family day will be featured in the November issue of Space Watch.
Visitors Center Public Opening is Oct. 9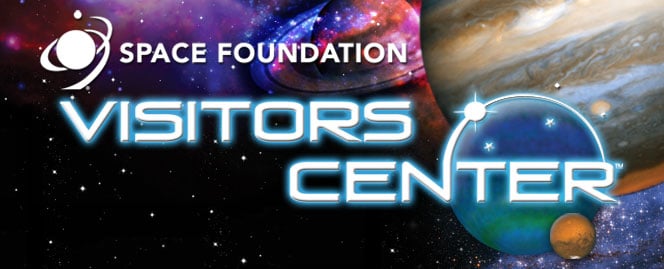 The Space Foundation Visitors Center will open to the public every Tuesday and Thursday and the first Saturday of each month from 10:00 a.m. to 5:00 p.m., beginning Tuesday, Oct. 9.
The Visitors Center, located within the Space Foundation world headquarters in Colorado Springs, Colo., is an interactive, museum-quality destination that advances science, technology, engineering and mathematics (STEM) in the exciting context of space exploration, development and utilization.
Northrop Grumman Science Center
Funded by a $375,000 donation from Space Foundation platinum-level corporate partner Northrop Grumman Corp., the Northrop Grumman Science Center is a dramatic teaching facility featuring one of only 85 Science On A Sphere (SOS) installations in the world. It includes both the SOS facility and classroom facilities for pre-kindergarten through graduate-level classes, educator professional development and educational multimedia events and presentations for the general public. When not being used for classes, the SOS will be available for public viewing as part of the Visitors Center.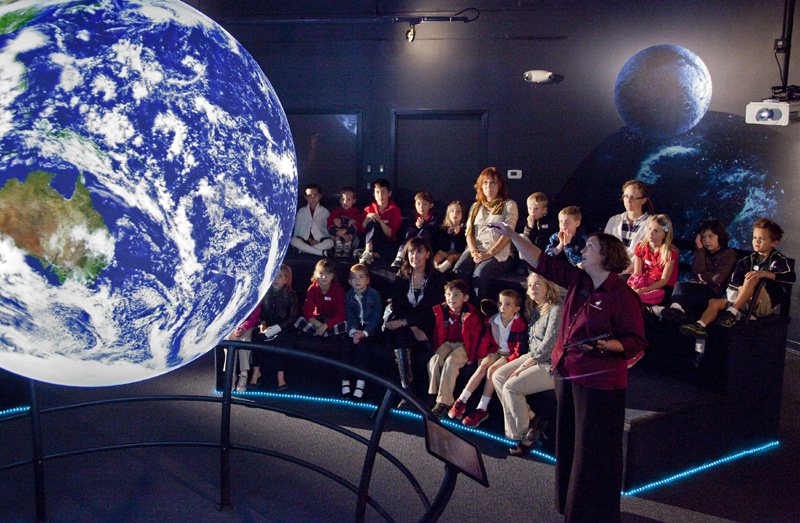 SOS is a dynamic spherical projection system that uses special software and satellite imagery to render dramatic, full motion views of the Earth, Sun, moons and planets. Developed by the National Oceanic and Atmospheric Administration (NOAA), SOS graphically illustrates complex science principles in a compelling and easy-to-understand format. The Space Foundation's SOS, which is one of only 85 in the world, has more than 350 unique datasets covering topics as diverse as satellite images of planets and moons, the paths of hurricanes and tsunamis, daily air traffic patterns, ocean currents and temperatures, plate tectonics and weather patterns.
"The Space Foundation has long dreamed of creating a space where we can offer students and visitors an extraordinary educational experience. Northrop Grumman made it possible for us to do this very quickly and in a spectacular way," said Space Foundation Chief Executive Officer Elliot Pulham. "We are thrilled that, through this collaboration, we are offering teachers and students a compelling platform for STEM education and we are launching a new visitor destination in northwest Colorado Springs at a time when the community needs it."
El Pomar Space Gallery
The initial phase of the El Pomar Space Gallery features artifacts and educational displays. The opening exhibit, entitled Launch to the Moon, chronicles the U.S./Soviet race to the Moon from 1959-1973.

The space gallery is named in honor of El Pomar Foundation, the primary contributor to our world headquarters building acquisition. The El Pomar Space Gallery features just a sampling of the Space Foundation's extensive collection of space artifacts and memorabilia.
More Planned for the Future
The Northrop Grumman Science Center and the initial phase of the El Pomar Space Gallery comprise the first phase of the Space Foundation Visitors Center. Within the next few years, we plan to significantly expand the El Pomar Space Gallery to include new exhibits and showcase many, many more space artifacts. We also hope to build a teaching auditorium for both onsite and distance-learning enhancements to our already-extensive Space Foundation education programs.
Plus, we are planning to open a Space Technology Hall of Fame® that will allow visitors to experience the profound impact that space technology has had on our everyday lives, as well as honoring the individuals who discovered and developed these amazing innovations. The physical space will complement the virtual Space Technology Hall of Fame that the Space Foundation has sponsored since 1988.
Sponsors, Volunteers Made the Opening Possible
Community and industry support played a huge role in the creation of the Visitors Center, Northrop Grumman Science Center and El Pomar Space Gallery – and much more support will be needed to continue growing.
Sponsors: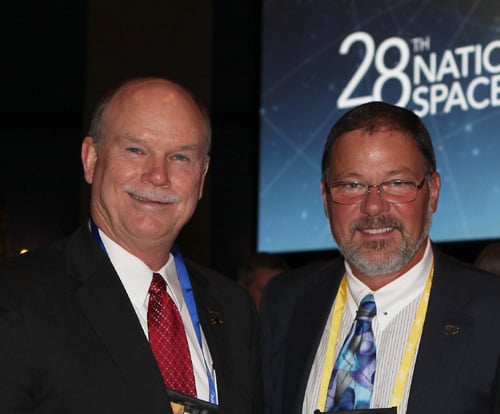 Pictured, above left, Gary Ervin, corporate vice president and president of Northrop Grumman's Aerospace Systems, and Space Foundation CEO Elliot Pulham, following the announcement of Northrop Grumman's $375,000 contribtion.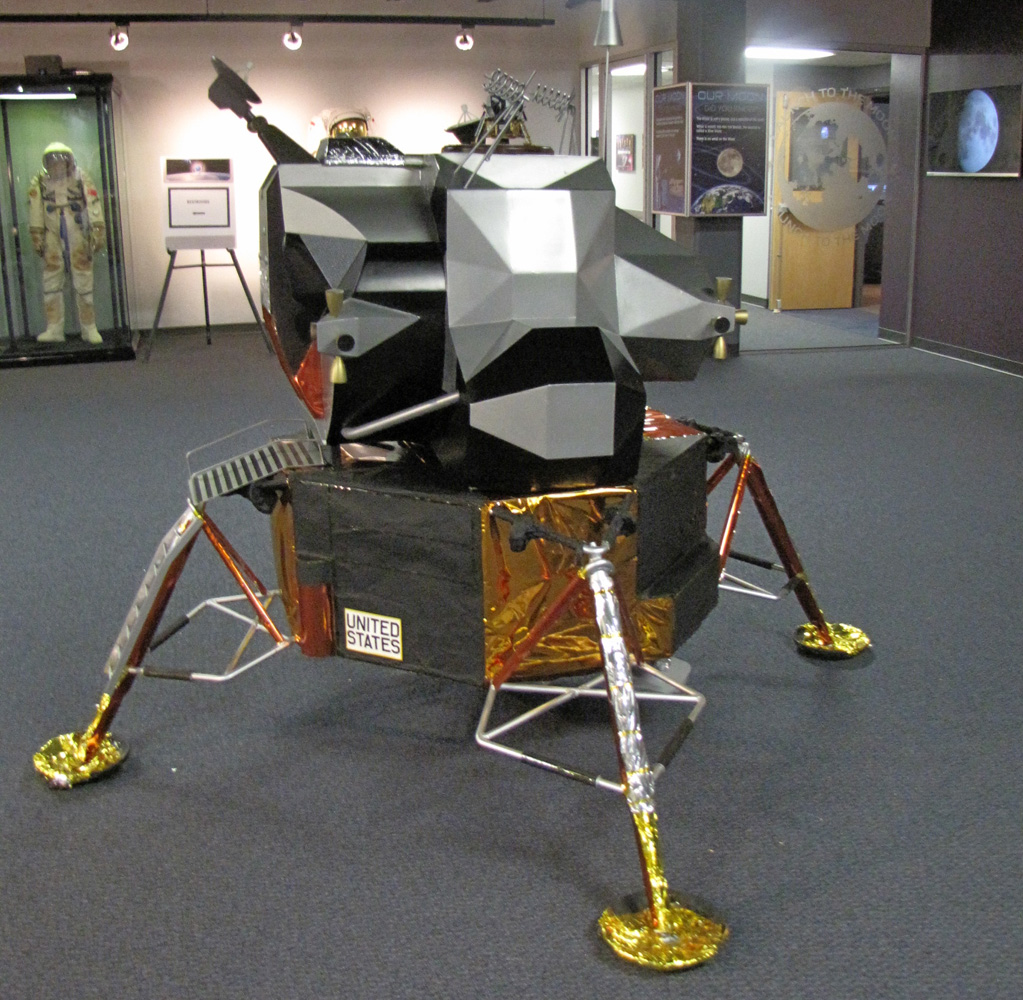 Artifacts and photography contributors:
Col. Michael T. Good, USAF, Ret.
If you are interested in helping us expand our Visitors Center – including options for named sponsorship of the Space Technology Hall of Fame® or the teaching auditorium – contact us at Donation[email protected], +1.719.576.8000 or +1.800.691.4000. For more information, click here.
In addition, we have a large number of volunteers who have worked with us to develop and launch the Visitors Center and who are working onsite as docents and to provide administrative support. If you would like to learn about volunteering at the Visitors Center, click here.
Learn More
See more about the Visitors Center here.
This article is part of Space Watch: October 2012 (Volume: 11, Issue: 10).
---
Posted in Space Foundation News