Report from Headquarters
---
28th Annual Festival of Lights Parade to Feature Space Foundation Float
Written by: developer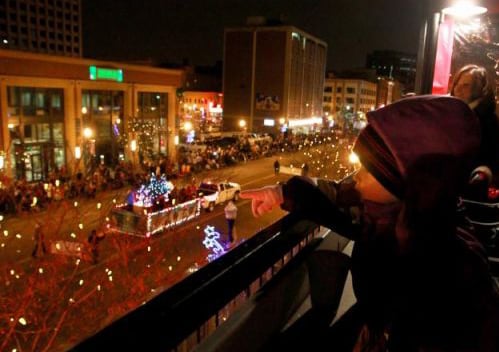 The Festival of Lights Parade is an annual tradition in Colorado Springs and this year will feature a unique float created by the Space Foundation. The 2012 theme is "Home for the Holidays" and the Space Foundation float will include school children surrounding a glowing globe of the Earth, our home in the universe. The Earth theme also echoes a feature of the new Space Foundation Visitors Center – Science On a Sphere® (SOS).
The parade is the highlight of the annual Festival of Lights, a series of events to celebrate the December holiday season, including cultural and artistic programs, performances and other festivities for the enjoyment and education of the general public. The Festival of Lights Parade will benefit the Gazette-El Pomar Foundation Empty Stocking Fund, which provides resources for 15 local health and human service agencies in the Pikes Peak region on the front lines of helping people in crisis and assisting others in attaining self-sufficiency. The 2012 Grand Marshall is Forest Supervisor Jerri Marr, who played a pivotal role in last summer's devestating Waldo Canyon fire in Colorado Springs.
SOS is a new educational tool in the Space Foundation Northrop Grumman Science Center and includes a built-in computer lab, 70-inch HD digital display systems to complement the six-foot spherical projection system, surround sound and stadium seating for 49 students.
Educators who are interested in arranging an SOS education program at the Space Foundation Northrop Grumman Science Center should call 1.719.576.8000. The Space Foundation Northrop Grumman Science Center is located within the Space Foundation Visitors Center at its world headquarters in Colorado Springs at 4425 Arrowswest Drive.
This article is part of Space Watch: November 2012 (Volume: 11, Issue: 11).
---
Posted in Report from Headquarters