Space Foundation News
---
Space Foundation Releases Recommendations for Sustaining U.S. Leadership in Space
Written by: developer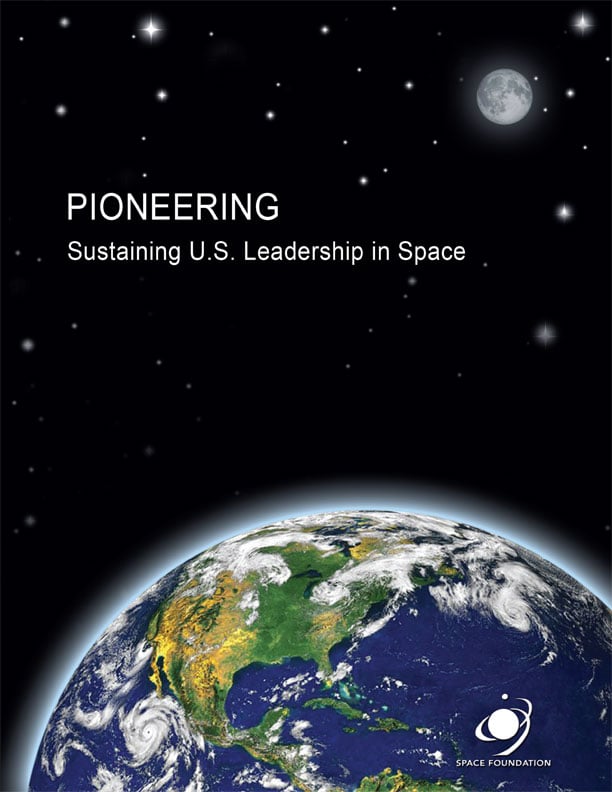 The Space Foundation has released our much-anticipated recommendations for the future of the United States' National Aeronautics and Space Administration (NASA). Based on in-depth historical research and interviews with nearly 100 space leaders, PIONEERING: Sustaining U.S. Leadership in Space was unveiled Dec. 4 in Washington, D.C.
The 70-page report provides measures for strengthening the U.S. civil space program, improving NASA performance and increasing returns on taxpayer investment in space. It covers issues that need to be addressed by the agency, Congress and the administration. We distributed it and a separate executive summary to policymakers, industry leaders and media and launched a webpage that provides more information and downloadable PDFs.
The most significant recommendation we made is that NASA should return to its roots and embrace a singular, compelling purpose - pioneering - that leverages the agency's core strengths and provides clear direction for prioritizing tasks and assigning resources. In addition, the report lays out measures that must be taken to remove or reduce factors that hamper NASA's ability to execute a clearly defined program.
The Space Foundation believes that pioneering - being among those who first enter a region to open it for use and development by others - creates the foundation for a healthy national civil space enterprise.
According to Space Foundation Chief Executive Officer Elliot Pulham, "Our research revealed that NASA is struggling to find its way as a result of years of circumstance, history, geographical and mission disparity and mixed signals from political leadership. But, the fundamental issue is a muddled - or non-existent - understanding of why NASA exists and what it should by doing." See more of Pulham's views about NASA and the report here.
Pioneering Doctrine Lays Out Framework
PIONEERING: Sustaining U.S. Leadership in Space lays out a "Pioneering Doctrine" that will enable NASA to bring a greater portion of space within the sphere of regular human activity, such as commercial endeavors, research or travel. It calls for a methodical objective-based process rather than a loose amalgamation of missions by stipulating the four phases of space activity in which the agency should engage:
Access - developing the ability to get to and from targeted destinations.
Exploration - learning about those destinations in order to plan for subsequent missions.
Utilization - turning theoretical knowledge into technology that justifies continued, longer-term activity at the destinations.
Transition - handing off the knowledge and capabilities NASA has developed to other government organizations or the private sector for further long-term engagement.
Strategic Recommendations Set Path for Stability, Accountability
In addition to calling for a focused purpose, PIONEERING: Sustaining U.S. Leadership in Space makes strategic recommendations to create much-needed budget and management stability and eliminate time and dollars wasted on arbitrarily changed or cancelled programs:
Congress should amend the Space Act to officially assign pioneering as NASA's primary purpose and eliminate tasks not relevant to pioneering.
NASA and Congress should streamline the national civil space enterprise by assessing the agency's current activities and work, dispersing non-pioneering activities to other public and private parts of the national civil space enterprise, consolidating infrastructure and facilities to eliminate excess capacity and pursuing privatization and commercialization of activities where possible.
Congress should stabilize NASA's leadership and planning to ensure continuity by:

Establishing a five-year renewable term for the NASA administrator.
Requiring NASA to develop both an objectives-based 10-year plan and a broad 30-year strategic plan to be approved by Congress every five years.
Creating a 12-person expert commission to review and validate NASA's plans and performance.
Congress should stabilize NASA funding by:

Creating a revolving fund, supplemented through annual appropriations, to allow NASA to rationally fund long-term programs rather than constantly rearranging priorities to maintain a top-line annual budget.
Using the full range of available funding options, including multi-year, no-year and advance appropriations.
Tactical Recommendations Round out Report
PIONEERING: Sustaining U.S. Leadership in Space is intended to suggest broad solutions to many of the issues NASA faces, not to prescribe day-to-day operations. However, in the course of our research, we discovered some key areas where NASA, Congress and the president can improve NASA's effectiveness. The report includes a number of tactical recommendations addressing:
Coordination of the civil and national security sectors of the national space enterprise.
International Space Station (ISS) performance measurement.
NASA's role in developing industrial base policy.
Internal NASA issues including:

Personnel management
Relationships among NASA centers and headquarters
Standards, rules, regulations, best practices and institutional knowledge
Procurement processes
Program management
In-house technical capability
Recommendations Put NASA Back on Track after Decades of Instability
"NASA is an exceptional agency in a tremendous predicament," said Pulham. "The agency's accomplishments have fundamentally changed how the human species interacts with our universe. But, sadly, because of many factors, NASA seems to have lost its way.
"Our intent is to set NASA on a sustainable, long-term course to restore the nation's role as a leading space nation," he said. "Although some of our recommendations go against the status quo, they are reasonable and straightforward."
If adopted, the recommendations in PIONEERING: Sustaining U.S. Leadership in Space are intended to insulate NASA from shifts in political priorities and reduce the waste that results from the starts, stops, restarts, delays and eventual program cancellations it faces. According to the report, "the agency will be able to begin a mission with confidence that it can pursue that project as long as it is technically viable, without worrying about capricious changes in direction from one election to the next."
Research Includes Expert Interviews and Historical Analysis
The Space Foundation spent more than a year researching a broad array of reports and analyses of NASA's performance, reviewing historical information and interviewing nearly 100 senior leaders representing a variety of perspectives on management, space exploration and public administration. Interviews were off-record, not-for-attribution discussions of personal views and do not imply endorsement of the report by the interviewees. To find out more about what we did - and why we did it - read Vice President - Washington Operations Brendan Curry's Second View article here.
PIONEERING: Sustaining U.S. Leadership in Space was underwritten by generous contributions from Aerojet, ATK, Ball Aerospace & Technologies Corp., The Boeing Company, EADS North America, Economic Development Commission of Florida's Space Coast, Holland & Hart LLP, The Johns Hopkins University Applied Physics Laboratory, Lockheed Martin, Moog Inc., Northrop Grumman, Pratt & Whitney Rocketdyne, Raytheon, SAIC, Space Florida, Toffler Associates and U.S. Space LLC. None of the underwriters were involved in creating the recommendations, nor did any review the report before publication; support should not be construed as endorsement.
How to Get More Information
To download the full PIONEERING: Sustaining U.S. Leadership in Space report or the executive summary, to read media coverage or to comment on the report, go to www.spacefoundation.org/research/pioneering. Inquiries should be directed to [email protected].
This article is part of Space Watch: December 2012 (Volume: 11, Issue: 12).
---
Posted in Space Foundation News