Report from Headquarters
---
Two New Team Members Welcomed at World Headquarters
Written by: developer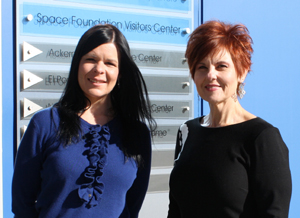 The Space Foundation recently welcomed two new team members at our world headquarters in Colorado Springs, including a receptionist and the newly-created position of corporate sales support associate.
Receptionist Kim Brinkman (at left in picture) has five years of front-desk experience with Accelerated Recovery Specialists and Care Core National, as well as two years of customer care experience in the collections area of Ford Motor Credit, where she earned repeated awards as Outstanding CSI, Team Player of the Month, Top Gun of the Month and Perfect Attendance recognition. Prior to that, she spent four years at Peterson AFB in the Peterson Child Development Center.
As corporate sales support associate, Rebecca Williams (pictured right) brings more than 20 years of administrative support experience gained with organizations including Current Consumer Group, Pikes Peak Behavioral Health Group, ATMEL Corporation and Lockheed Martin. In her new position, she is providing help with post-sale follow-up and is keeping track of workflow to ensure the seamless delivery of products and services for current and new Space Foundation customers.
This article is part of Space Watch: December 2012 (Volume: 11, Issue: 12).
---
Posted in Report from Headquarters