The View From Here
---
The View From Here: Realigning the Stars
Written by: developer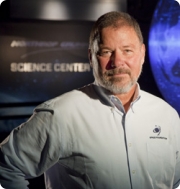 Happy New Year — unless you observe the Chinese or Gregorian calendars — and welcome to 2013, a year in which we can expect to see a continued realigning of the stars where space programs, policies and organizations are concerned.
While 2012 was a year of mixed results in our industry, it certainly ended with some terrific, upbeat news: the passing of the FY 2013 National Defense Authorization Act, which included language substantively repealing the satellite export control provisions of the umbrella International Traffic in Arms Regulations (ITAR) that have so hurt the space industry in recent years.
The Space Foundation has actively opposed the ITAR constraints for many years, and we are pleased to have played an active role in the process of undoing this painful yoke around the neck of our industry. We have worked closely with many policymakers and have published white papers and reports to help them tackle this important issue. We believe that much of the credit for — finally — getting this important work done goes to Senator Bennet (D-CO) and Sen. Mark Udall (D-CO) and their staffs. We are very fortunate to have two legislators who so completely understand and support the space industry in our own headquarters state.
We also appreciate the work by the staffs of many other members of Congress, the departments of Defense and State, an informal coalition of like-minded organizations and the Obama administration.
With the slaying of this beast, we'll refocus our efforts on working with those who must implement this important sea change. We'll declare victory and not beleaguer the issues that got us here, other than to say that our seminal white paper on the issue can still be found on line at: www.spacefoundation.org/docs/SpaceFoundation_ITAR.pdf.
Other great news continued to percolate in the commercial side of the industry, where strong growth in direct-to-consumer satellite broadcasting and the GPS applications business fueled another strong year in the global space economy. Our team is deep into the most intensive phase of data crunching ahead of the release of our The Space Report 2013. While I can't release any data prematurely, I will say that 2012 saw our industry surpass a huge milestone in global revenues. Our 2012 report is available online at www.TheSpaceReport.org and, if you'd like to pre-order the 2013 report in bulk for your business or library, you can contact [email protected].
One part of our industry that did not fare so well in 2012 was the U.S. government contracting sector. NASA procurement continued to lag under the burden of continuing disagreement over the agency's direction, and all federal agencies engaged in the space enterprise were crippled by federal budget uncertainties, election year politics and the terrifying specter of the "fiscal cliff." While our elected officials in Washington, D.C., continued to play insufferable hardball politics with the finances of the republic, uncertainty continued to erode contractor workforce — especially tier two and three subcontractors. While it is impossible to quantify, I am convinced that the U.S. space industrial base suffered damage in 2012 – primarily from federal budget uncertainties, but also by the loss of commercial markets because of those (may they rest in peace) former ITAR regulations. The damage will be difficult and costly to repair — assuming that it can be — and it will require a well-funded program. The blame for these issues lies with those who have played politics with our future. Here's hoping they will behave more responsibly in 2013.
Meanwhile, however, space programs continue to advance in other parts of the globe. We are likely to see another landmark manned space mission for the Chinese human space flight program in 2013; look for a big stakes launch out of China around the time of April's 29th National Space Symposium. With Ariane V, Soyuz and Vega now all launching commercially out of the Guiana Space Center, look for French powerhouse Arianespace to assert its position as the leading commercial space launch company. Ariane flight VA212 and Soyuz flight ST26 are both on tap for February. India, Japan, China, Russia and the Swiss-based Sea Launch consortium all have launches set for the first half of the year. United Launch Alliance has a blistering schedule of a launch per month of its big Atlas and Delta EELV rockets. Russia, however, could be in for a difficult year after a string of stinging launch failures and reorganization of Roscosmos in 2012.
Although by now NASA comprises only a few percentage points of the global space economy, its future is likely to continue to be hotly debated in 2013 because of the large fan base (both public and industrial) the agency enjoys. For our part, in 2012 the Space Foundation spent nearly the entire year researching and analyzing the past, present and future of the agency, publishing our report PIONEERING: Sustaining U.S. Leadership in Space in December. The report, which sets out a framework for making the agency meaningful, relevant and successful for the future, was critically well received and we continue to meet with elected and appointed officials to brief our findings. The publication of our report was followed immediately by the release of a similar, although more narrowly scoped, report from the National Research Council of the U.S. National Academies that identified almost all of the issues that we covered in our report. Together, these two treatises are certain to be at the core of a great deal of discussion and debate about the future of NASA.
NASA has, of course, recently done some things with spectacular success; for example, the stunning and imagination-capturing landing of the Curiosity rover on Mars. The agency and its current architects are also to be congratulated on pursuing a strategy of capacity building within the emergent entrepreneurial space sector. This strategy bore great fruit in 2012 with the successful SpaceX mission to and from the International Space Station. Such missions, and the announcement of the creation of companies such as Planetary Resources, promise to fundamentally change the way that humans utilize space. In that vein, look for Virgin Galactic to make big news in 2013 as the company rockets past several key milestones in its space tourism business plan. Look, too, for production milestones and anchor tenancy announcements out of the habitually understated Bigelow Aerospace.
Merger and acquisition activity, punctuated by the recent acquisition of Space Systems Loral by MDA, could also see growth in 2013 — depending upon whether lingering "fiscal cliff" issues are settled and how anticipated growth in the general economy affects the availability of venture and equity capital.
The View From Here is that 2013 is going to be a year in which our industry's stars will continue to realign as our universe continues to expand. Make no mistake, it's going to be a very, very challenging year. As always, the Space Foundation looks forward to tackling it in partnership with our many colleagues all over the home planet.
This article is part of Space Watch: January 2013 (Volume: 12, Issue: 1).
---
Posted in The View From Here