Space Symposium
---
29th National Space Symposium to Feature NASA Administrator
Written by: developer
NASA Administrator Charles F. Bolden, Jr., will return to the Space Foundation's annual Space Symposium, April 8-11 at The Broadmoor Hotel in Colorado Springs, Colo., and will discuss what's in store for his agency's future.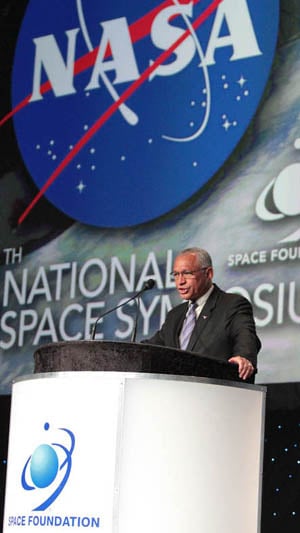 About Bolden
Bolden's 34-year Marine Corps career included 14 years with NASA's Astronaut Office, both as an astronaut and in a number of technical assignments, including overseeing safety efforts for the return to flight after the 1986 Challenger accident; serving as lead astronaut for vehicle test and checkout at the Kennedy Space Center and serving as assistant deputy administrator at NASA headquarters. Between 1986 and 1994, Bolden flew four Space Shuttle missions, commanding two. His flights included deployment of the Hubble Space Telescope and the first joint U.S.-Russian shuttle mission.
A graduate of the U.S. Naval Academy, Bolden flew more than 100 combat missions over North and South Vietnam, Laos and Cambodia while stationed in Thailand from 1972-1973. During his career, he served as deputy commandant at the U.S. Naval Academy; deputy commanding general of the 1st Marine Expeditionary Force in the Pacific; and commanding general of the 1st Marine Expeditionary Force Forward in support of Operation Desert Thunder in Kuwait. He was promoted to major general in 1998 and named deputy commander of U.S. Forces in Japan. He served as commanding general of the 3rd Marine Aircraft Wing at Marine Corps Air Station Miramar in San Diego, Calif., before retiring from the Marine Corps in 2003.
Bolden holds a masters degree in systems management from the University of Southern California and is a graduate of the Naval Test Pilot School. His many military decorations include the Defense Superior Service Medal and the Distinguished Flying Cross. He was inducted into the U.S. Astronaut Hall of Fame in May 2006.
About the Space Symposium
The Space Symposium offers presentations covering all aspects of space. Returning for 2013 will be the New Generation Space Leaders programs for young, up-and-coming space professionals, age 35 and younger.
The Space Symposium is offered in conjunction with Cyber 1.3, which examines issues related to cyberspace. Separate registration is required for Cyber 1.3 and secure online registration for both is available online at www.NationalSpaceSymposium.org.
An Early Bird Discount rate is in effect until March 15 for standard industry Space Symposium registration. The registration rate for active duty military and government personnel has been lowered to 2010 pricing, now $790 for the four-day Symposium.
For information about Space Symposium speakers, panels and agenda details, visit www.NationalSpaceSymposium.org/.
This article is part of Space Watch: February 2013 (Volume: 12, Issue: 2).
---
Posted in Space Symposium