Education
---
New Flight of Space Foundation Teacher Liaisons Announced
Written by: developer
The Space Foundation has selected an outstanding team of 20 educators for its 2013 flight of Teacher Liaisons. The teachers were chosen for their active promotion of space and science education.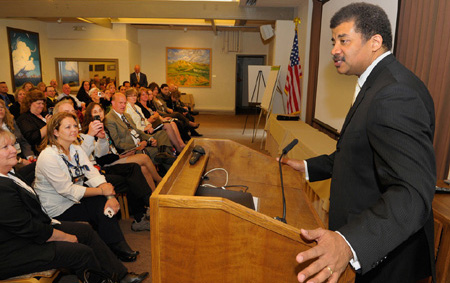 Teacher Liaisons serve as advocates for space-themed education across the curriculum and use Space Foundation-provided training and resources to further integrate space principles into the classroom. The highly regarded Space Foundation Teacher Liaison program has more than 270 active participants, including the 2013 flight. The teachers are selected by a panel comprising experienced Teacher Liaisons and representatives from the space industry and the military.
Pictured, above: Astrophysicist Dr. Neil deGrasse Tyson speaks to Space Foundation Teacher Liaisons at the 28th National Space Symposium.
The 2013 Teacher Liaisons will be publicly recognized at the Space Foundation's 29th National Space Symposium, which is being held April 8-11 at The Broadmoor Hotel in Colorado Springs, Colo.
In addition to the recognition activities, the 2013 Teacher Liaisons will participate in workshops and education programs at the Space Symposium. And following the Space Symposium, they can take advantage of specialized training and instruction at Space Foundation and NASA workshops with optional graduate-level credit; exclusive science, technology, engineering and math (STEM) professional development experiences with optional continuing education credit; and special space-oriented student programs created just for Teacher Liaisons.
2013 Flight Represents 13 States
The 2013 flight of Teacher Liaisons includes:
Alabama
Elizabeth Gilmore, Rocky Ridge Elementary School, Birmingham
California
Rhonda Frohn, Thousand Oaks High School, Thousand Oaks
Kevin Tambara, Bert Lynn Middle School, Torrance
Colorado
Kolin Campbell, Manitou Springs Middle & High School, Manitou Springs
Taylor Dufford, Cherry Creek High School, Greenwood Village
DeLene Hoffner, School in the Woods, Colorado Springs
Christine Meek, STEM Hybrid, Highlands Ranch
Amy Paul, School in the Woods, Colorado Springs
Duane Roberson, Manitou Springs High School, Manitou Springs
Hawaii
Celeste Ha'o, 'Imiloa Astronomy Center of Hawaii, Hilo
Maryland
Paulo Oemig, NASA-Goddard Space Flight Center, Greenbelt
Michigan
Mark Supal, Macomb Mathematics Science Technology Center, Warren
Minnesota
Nicole Fleming, University Avenue Elementary School, Blain
Montana
Amy Williams, Headwaters Academy, Bozeman
New Jersey
Jeffrey King, Camden County Technical School-Pennsauken Campus, Pennsauken
Tennessee
Mona Sue McPherson, Hendersonville High School, Hendersonville
Texas
Stephanie Hanover, Arthur L. Davila Middle School, Bryan
Virginia
Andrew McQuiston, Thomas A. Edison High School, Alexandria
Washington
Denise Thompson, Orting High School, Orting
Shayé Whitmer, The Evergreen School, Shoreline
See more about the Space Foundation Teacher Liaison program here.
This article is part of Space Watch: February 2013 (Volume: 12, Issue: 2).
---
Posted in Education