Education
---
Space Foundation Partners with CSU-Pueblo for Space Seminar
Written by: developer
The Space Foundation and Colorado State University-Pueblo held the third annual Space Exploration Seminar in January, with the goal of introducing engineering and education students to current topics impacting the space industry and how students can get involved.
Space Foundation Space Education Specialists Elias Molen and Amy Robinson conducted sessions focusing on nanotechnology and robotics, respectively. Each session was geared for either engineering or education students. Those in the engineering track learned current and future uses of nanotechnology. Those students in the education track learned how to use these topics in the classroom as well as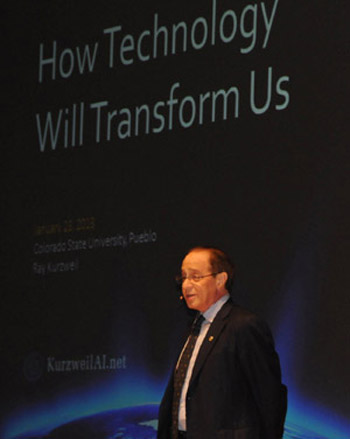 learning hands-on activities they could use with their future students.
Both of these sessions were chosen to complement the featured speaker of the evening Ray Kurzweil (pictured right), who was recently appointed as director of engineering at Google. Kurzweil was the principal developer of the first CCD flatbed scanner, the first omni-font optical character recognition system, the first print-to-speech reading machine for the blind, the first text-to-speech synthesizer, the first commercially marketed large-vocabulary speech recognition system and the first music synthesizer capable of recreating the grand piano and other orchestral instruments. He has authored four national bestselling books, including The Singularity is Near and How to Create a Mind, The Secret of Human Thought Revealed.
To learn more about Space Foundation education programs, visit www.spacefoundation.org/education.
This article is part of Space Watch: February 2013 (Volume: 12, Issue: 2).
---
Posted in Education