Space Foundation Press Releases
---
Colorado Teacher is 2013 Recipient of the Alan Shepard Technology in Education Award
Written by: developer
COLORADO SPRINGS, Colo. (March 7, 2013) – Daniel R. Newmyer, a science and math teacher for Center High School in rural southern Colorado, has been selected by the Astronauts Memorial Foundation (AMF), the National Aeronautics and Space Administration (NASA) and the Space Foundation as recipient of the 2013 Alan Shepard Technology in Education Award, which is given annually in recognition of creative and innovative use of technology by K-12 educators or district-level education personnel.
Newmyer, who is a member of the Space Foundation's elite Teacher Liaison program, was recommended for the award by former NASA astronaut Kent Rominger, who is now vice president at ATK Aerospace Systems, and by the Society for Science & the Public.
The award will be presented during the opening ceremony of the 29th National Space Symposium on April 8 at The Broadmoor Hotel in Colorado Springs, Colo. The ceremony is co-sponsored by Northrop Grumman.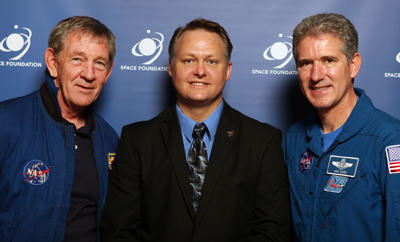 About Newmyer
Center High School, where Newmyer teaches science and math, is in the Center Consolidated School District 26JT, 150 miles from the nearest city. The district's demographics include a poverty rate of 90 percent, a minority population of 87 percent and a migrant population of 21 percent.
Newmyer created two innovative science programs for the district:
Center Scientific Research and Engineering – a program in which students create science and engineering projects that include identifying problems, designing and conducting related experiments and presenting results. Among the students who have participated, more than 120 have won regional science fair awards and 10 have qualified for the Colorado State Science and Engineering Fair.
Teaching Extraordinary Students Lessons in Aerospace (TESLA) – a program that will be launched internationally via the web this year that focuses on how mathematics integrates with aerospace science by using flight simulators to accelerate math scores. Students who reach milestones in the math curriculum are designated as "mathtronauts."
Newmyer was named a Society for Science & the Public Fellow in 2009, a Siemens STEM Educator Fellow in 2010, Lockheed Martin Science Teacher of the Year in 2011 and Colorado Parks and Wildlife Facilitator of the Year in 2012.
In 2011, Newmyer was one of a team of four teachers from his district who received a $5,000 education grant from United Space Alliance (USA) and the Space Foundation. Eligible to apply for the grant because of his status as a Teacher Liaison, he and his team submitted a plan that included space-based classroom lessons and activities to promote science, technology, engineering and math (STEM) subjects in the classroom and a list of materials needed, estimated costs and learning objectives. The grant check was presented at a luncheon ceremony during the Space Foundation's 27th National Space Symposium. Learn more about the Space Foundation Teacher Liaison program at www.spacefoundation.org/education
About the Award
Alan Shepard, one of the nation's original seven Mercury astronauts, was the first American to fly in space, one of only 12 humans who have walked on the Moon and a former AMF board member. The award named after him recognizes excellence, quality and innovation in the development and application of technology in the classroom or to the professional development of teachers. More information about the award is available at www.astronautsmemorialfoundation.org.
Space Symposium Registration
The Space Foundation's annual Space Symposium brings together top decision-makers to address issues facing the global space community today. It is slated for April 8-11 at The Broadmoor Hotel, with presentations and panel discussions covering all aspects of space, and featuring the latest international space technology and services in the Lockheed Martin Exhibit Center.
The Space Symposium is offered in conjunction with a separate Space Foundation conference, Cyber 1.3, to be held during the day on April 8, immediately preceding the Space Symposium's opening ceremony. Register securely for both events at www.NationalSpaceSymposium.org/register, which includes a live chat tab for customer service questions.
Cyber 1.3 and Space Symposium Co-Sponsors
Confirmed co-sponsors include: a.i. solutions; Aeroflex; Aerojet; Analytical Graphics, Inc. (AGI); Arianespace, Inc.; Astrium; ATK; Avionics Intelligence; Ball Aerospace & Technologies Corp.; Barrios Technology; Blue Ridge Networks; Booz Allen Hamilton; Colorado Space Business Roundtable; Colorado Springs Convention & Visitors Bureau; EADS North America; Euroconsult; Fisher Space Pen; Fluor; General Dynamics; Global Technology Resources, Inc. (GTRI); GMV USA; Government Executive Media Group; Inmarsat; Intelsat General Corporation; Lockheed Martin; Maui Economic Development Board; McCollister's Transportation; Millennium Engineering and Integration Co.; Moog; Müller-BBM VibroAkustik Systeme, Inc; Northrop Grumman; Pratt & Whitney Rocketdyne; Raytheon; SAIC; Secure World Foundation; SES Government Solutions; Space Generation Advisory Council (SGAC); SSL; SpaceX; Spincraft; Stellar Solutions; Tech Briefs Media Group; The Boeing Company; United Launch Alliance; Universities Space Researcg Association (USRA). Official media partners include Aviation Week, SatNews Publishers and SpaceNews.
For questions about sponsorship, email [email protected].
About the Astronaut Memorial Foundation
AMF, based at Kennedy Space Center in Florida, honors and memorializes astronauts who have sacrificed their lives for the nation and the space program by sponsoring the national Space Mirror Memorial and by implementing innovative educational technology programs. AMF partners with NASA to provide technology training to educators throughout the nation with emphasis on space-related technology. In addition, at The Center for Space Education, AMF offers space-related educational opportunities for individuals to improve the quality of the workforce in the space industry. For more information, go to www.astronautsmemorialfoundation.org.
About the National Aeronautics and Space Administration
NASA is an agency of the United States government, responsible for the nation's civilian space program and aeronautics and aerospace research. Operational since 1958, NASA's mission is to pioneer the future in space exploration, scientific discovery, and aeronautics research. It has led U.S. space exploration including the Mercury and Gemini space programs, the Apollo missions to the Moon, the Space Shuttle, U.S. involvement in the International Space Station, the Hubble Telescope and robotic interplanetary and distant space missions. NASA is also responsible for long-term civilian and military aerospace research and research focused on better understanding Earth, the solar systems, and the universe beyond. For more information, go to www.nasa.gov.
About the Space Foundation
The foremost advocate for all sectors of the space industry and an expert in all aspects of space, the Space Foundation is a global, nonprofit leader in space awareness activities, educational programs that bring space into the classroom and major industry events, including the National Space Symposium, all in support of its mission "to advance space-related endeavors to inspire, enable and propel humanity." The Space Foundation publishes The Space Report: The Authoritative Guide to Global Space Activity and provides three indexes that track daily U.S. stock market performance of the space industry. Through its Space Certification™ and Space Technology Hall of Fame® programs, the Space Foundation recognizes space-based technologies and innovations that have been adapted to improve life on Earth. The Space Foundation was founded in 1983 and is based in Colorado Springs, Colo. Its world headquarters features a public Visitors Center with two main areas – the El Pomar Space Gallery and the Northrop Grumman Science Center featuring Science On a Sphere®. The Space Foundation also conducts research and analysis and government affairs activities from its Washington, D.C., office and has a field office in Houston, Texas. For more information, visit www.SpaceFoundation.org. Follow us on Facebook, LinkedIn and Twitter, and read about the latest space news and Space Foundation activities in Space Watch.
# # #
Pictured: Daniel R. Newmyer, Space Foundation Teacher Liaison and 2013 recipient of the Alan Shepard Technology in Education Award, meets NASA astronauts Capt. Michael J. McCulley, USN, Ret., and Col. Michael T. Good, USAF, Ret., at the 2012 28th National Space Symposium in Colorado Springs. One perk of becoming a Teacher Liaison is free participation at the annual Space Symposium and the opportunity to meet astronauts. 
---
Posted in Space Foundation Press Releases