Education
---
Space Foundation Teacher Liaison is 2014 Recipient of the Alan Shepard Technology in Education Award
Written by: developer
For the second consecutive year, an educator in the Space Foundation's international Teacher Liaison program has been selected by the Astronauts Memorial Foundation (AMF), the National Aeronautics and Space Administration (NASA) and the Space Foundation as recipient of the Alan Shepard Technology in Education Award.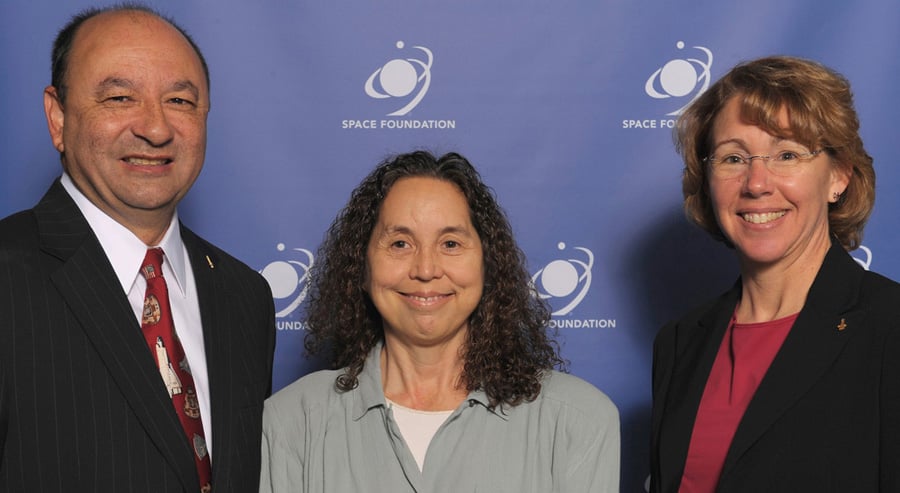 Lynne F. Zielinski, a retired physics, astronomy and space science teacher from Glenbrook North High School in Northbrook, Ill., was selected for the award for her work with the Glenbrook Aerospace Development Get-away Experiment Team (GADGET) program, which she founded 22 years ago. The program enables students to design and conduct microgravity experiments, initiate and direct aerospace and engineering research, develop spaceflight hardware and design space settlements. The GADGET program flew active experiments on six space shuttle flights, nine NASA Nike-Orion sub-orbital rockets, three Zero-G airplane flights and four high altitude balloon missions.
Read news articles about Zielinski in the Chicago Tribune here and the suburban-Chicago Daily Herald here.
The Alan Shepard Award, which is given annually in recognition of creative and innovative use of technology by K-12 educators or district-level education personnel, will be presented during the opening ceremony of the Space Foundation's 30th Space Symposium on May 19 at The Broadmoor Hotel in Colorado Springs, Colo., USA. The ceremony is co-sponsored by Northrop Grumman.
Zielinski was accepted into the Space Foundation's Teacher Liaison program in 2012. Learn more about Space Foundation STEM education outreach and its Teacher Liaison program at www.spacefoundation.org/education.
Register Now for Space Symposium
The 30th Space Symposium is preceded by a full-day cyberspace conference, Cyber 1.4 on Monday, May 19, at The Broadmoor Hotel. See details about speakers, and register for both the Symposium and Cyber 1.4, here.
Pictured: Lynn Zielinski (center) with NASA astronauts Mark Polansky and Sandra Magnus, Ph.D., at Space Foundation World Headquarters in Colorado Springs
This article is part of Space Watch: May 2014 (Volume: 13, Issue: 5).
---
Posted in Education