International Affairs
---
Four Teachers from India Attend Symposium Activities
Written by: developer
The Space Foundation welcomed 68 Space Foundation Teacher Liaisons to the 30th Space Symposium, May 19-22. Among our new flight of 2014 Teacher Liaisons meeting for the first time at the Symposium, were four outstanding educators from the Maharashtra region of India. Megha Gupta, Monika Mishra and Nalini Sengupta, all from Vidya Valley School in Pune, and Arati Patil, of Vidyanchal School, also in Pune.
The four teachers had the opportunity to meet with a team of former NASA astronauts, along with the other Teacher Liaisons who attended.
Learn how to join the elite group of Space Foundation Teacher Liaisons here.
Pictured below in the front row from left are: Megha Gupta, Monika Mishra, Arati Patil and Nalini Sengupta
NASA astronauts in the back from left are: Sandra H. Magnus, Ph.D.; Mark L. Polansky; Livingston L. Holder, Jr.; Leroy Chiao, Ph.D.; Kathryn C. Thornton, Ph.D.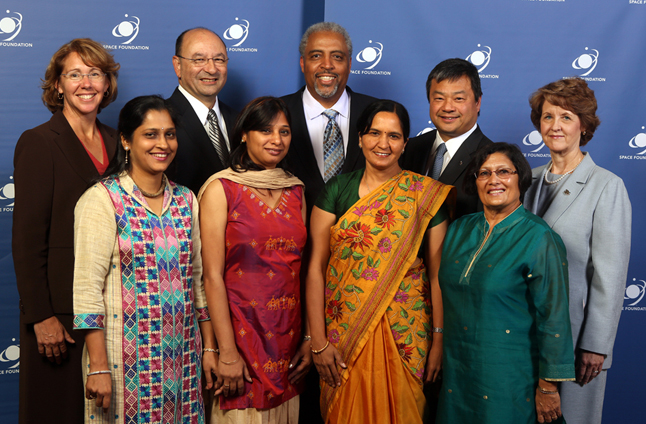 This article is part of Space Watch: June 2014 (Volume: 13, Issue: 6).
---
Posted in International Affairs