Space Foundation News
---
Space Foundation Discovery Center Welcomes John Healey
Written by: developer
On June 16, the Space Foundation hosted a visit by John P. Healey, best known for his role as spacecraft manager in the redesign of the command modules for the Apollo program after the launch pad fire that killed command pilot Virgil "Gus" Grissom, senior pilot Ed White and pilot Roger Chaffee on Jan. 27, 1967. Healey toured the Space Foundation's Discovery Center, a space, science and technology museum and learning center in Colorado Springs.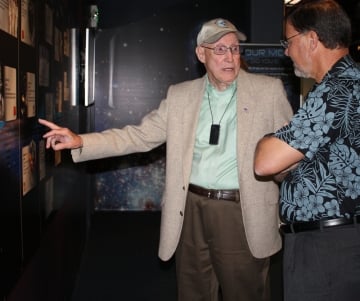 At 92 years old, Healey was eager to share stories about the history he witnessed during his participation in the U.S. manned spaceflight program. During the tour, he expressed concern that young people in the U.S. don't know about their country's history in space.
Healey's long career included serving as Rockwell's vice president for Apollo and Stage II of the Saturn V. After Apollo, Healey was assigned to the Rockwell B-1 Lancer strategic bomber program, designed to replace the B-52.
In 2008, Healey came out of retirement to join the Lockheed Martin Orion team.
Pictured: John Healey touring the Space Foundation Discovery Center in Colorado Springs with Elliot Pulham, Space Foundation Chief Executive Officer.
This article is part of Space Watch: July 2014 (Volume: 13, Issue: 7).
---
Posted in Space Foundation News