International Affairs
---
Find Global Space Facts in The Space Report 2014
Written by: developer
The Space Foundation's flagship publication The Space Report: The Authoritative Guide to Global Space Activity is often cited as a source in news reports about the global space industry. One example is a recent Wall Street Journal article about foreign satellite launches in India.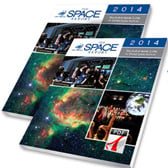 The Space Report is published annually by the Space Foundation, which works with a leading aerospace consulting firm, Futron Corporation, to research and analyze government and industry trends in space activity.
The 160-page book contains worldwide space facts and figures, and is illustrated with photographs, charts and graphs. In addition, The Space Report includes an overview of each sector, easy-to-understand definitions and up-to-date information on space infrastructure, facilities, launches and programs. Following are some of the facts and analyses found in The Space Report 2014:
Launches and satellites
81 launch attempts took place in 2013, an increase of 4 percent from the 78 launches in 2012 (and above the five-year average of 79 launches per year).
The majority of these launches were conducted by Russia (32 launches), the United States (19), China (15), and Europe (7).
After two years of conducting fewer launches than China, the United States rose again to second place, partly due to an increased operational tempo as U.S. commercial providers launched cargo resupply missions to the International Space Station.
Workforce
According to U.S. Bureau of Labor Statistics (BLS) data, the size of the U.S. space workforce declined for the sixth year in a row, dropping 3.5 percent, from 242,724 in 2011 to 234,173 in 2012 (the most recent full year for which data is available) – a decrease of about 8,500 workers. However, the changes varied by sector, with some portions of the space industry growing while others contracted.
Both Europe and Japan saw increases in space workforces; the European industry workforce grew by 1.5 percent in 2012, adding approximately 500 employees; in Japan, the overall workforce grew by 11 percent, while employment at the Japan Aerospace Exploration Agency (JAXA), Japan's government space agency, dropped.
Read more by ordering a copy of The Space Report 2014, a valuable resource for government and business leaders, educators, financial analysts, students and space-related businesses.
The report can be purchased — in print or as a downloadable PDF – for $399. Purchases can be made online at www.TheSpaceReport.org.
This article is part of Space Watch: August 2014 (Volume: 13, Issue: 8).
---
Posted in International Affairs