Space Symposium
---
World's Space Leaders to Speak at 31st Space Symposium
Written by: developer
The Space Symposium has been firmly established as the single most important event to link government, military and industry on both a national and international basis. Top civil and military space leaders from the U.S. and abroad are confirmed to speak, including:
Jean-Jacques Dordain, Director General, European Space Agency (ESA)
Gen. John E. Hyten, USAF, Commander, Air Force Space Command
The Honorable Deborah Lee James, Secretary of the Air Force
Jean-Yves Le Gall, President, Centre National d'Études Spatiales (CNES)
Ger Nieuwpoort, Ph.D., Director, Netherlands Space Office
David Parker, Ph.D., Chief Executive Officer, United Kingdom Space Agency
Dr. Marious-Ioan Piso, Chief Executive Officer, Romanian Space Agency (ROSA)
Johann-Dietrich Wörner, Chairman of the Executive Board, German Aerospace Center (DLR)
The 31st Space Symposium will also feature the Ball Aerospace Exhibit Center and Pavilion, with more than 160 displays of the world's latest space technology, products and services, and a separate classified Cyber 1.5 event on Monday, April 13, focusing on the evolving security challenges posed in cyberspace.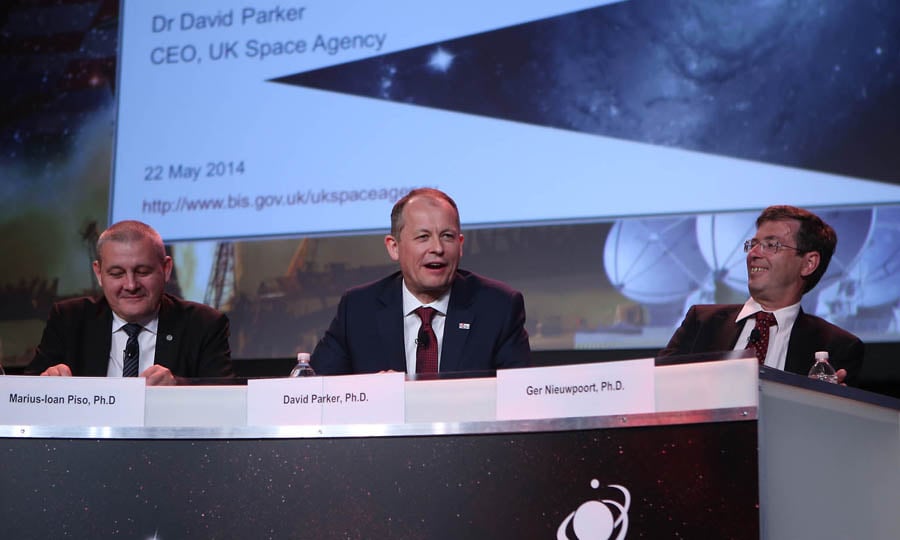 The Space Foundation is currently offering the lowest rate that will be available for standard industry registration for the 31st Space Symposium, to be held April 13-16, 2015, at The Broadmoor in Colorado Springs, Colo., USA. The Super Savings rate on standard industry registration is available if paid by Jan. 16 at www.SpaceSymposium.org.
Active Military/Government Rate
The Space Foundation offers reduced pricing for active military and government registrants. The active military/government rate includes admission to Symposium general sessions, exhibits, receptions, plus one ticket to each Symposium dinner and one ticket to a Symposium luncheon, such as the Space Warfighters Luncheon on April 14. This special rate does not apply to contractors who work for or with the government or military.
Register Now
Visit www.SpaceSymposium.org for secure online registration and complete conference information, or call +1.800.691.4000.
Co-sponsors
A special thank you to our co-sponsors who have already confirmed for the 31st Space Symposium: a.i. solutions; Aerojet Rocketdyne; Arianespace, Inc.; Artel LLC; Ball Aerospace & Technologies Corp.; Colorado Space Coalition; El Pomar Foundation; Inmarsat; Intelsat General Corporation; Lockheed Martin; Northrop Grumman; Orbital; Raytheon; Spincraft; Stellar Solutions; United Launch Alliance (ULA).
This article is part of Space Watch: January 2015 (Volume: 14, Issue: 1).
---
Posted in Space Symposium