Space Symposium
---
NASA Returns to Symposium Exhibit Center
Written by: developer
After several years' absence, the National Aeronautics and Space Administration (NASA) will bring an exhibit to the Space Foundation's 31st Space Symposium.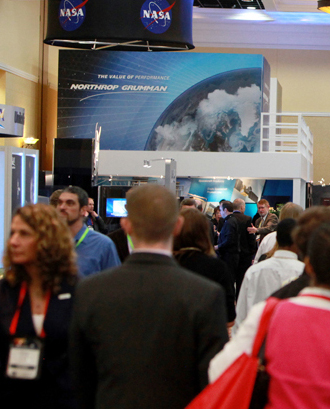 The Ball Aerospace Exhibit Center and Pavilion will open Monday evening, April 13, at The Broadmoor in Colorado Springs, Colo., immediately following the Space Symposium's opening ceremony.
Exhibits will be displayed in two halls, the Ball Aerospace Exhibit Center in Broadmoor Hall and the adjacent Ball Aerospace Exhibit Center Pavilion.
The thousands of people who will tour the exhibits include C-level industry executives, senior decision makers and government officials. The exhibit center will be open through Thursday, April 16, with exhibitors representing 10 countries.
The Ball Aerospace Exhibit Center is not open to the general public. See the complete list of exhibitors and a map of the exhibits here.
To reserve exhibit space for the 32nd Space Symposium, April 11-14, 2016, contact [email protected].
This article is part of Space Watch: March 2015 (Volume: 14, Issue: 3).
---
Posted in Space Symposium