Space Foundation News
---
Discovery Center Welcomes "Great Balls of Fire"
Written by: developer
"Great Balls of Fire: Comets, Asteroids and Meteors" is the newest traveling exhibit at the Space Foundation Discovery Center in Colorado Springs. This spectacular 3,000 square foot interactive exhibit details the origins and study of asteroids, comets and meteors, and examines potential threats to our planet.
A special sneak preview event was held for Space Foundation Discovery Passport Members on May 18. Visitors were given the opportunity to push all the buttons, flip all the flaps and interact with this truly engaging exhibit. From Halley's Comet to future risk to our planet, the exhibit has something to offer all ages. One of the interactive displays allows visitors to drop an asteroid or comet anywhere on the planet to see what type of effect it would have and the radius of the impact. Another simulation challenges you to save the Earth. Can you divert the debris headed for our planet?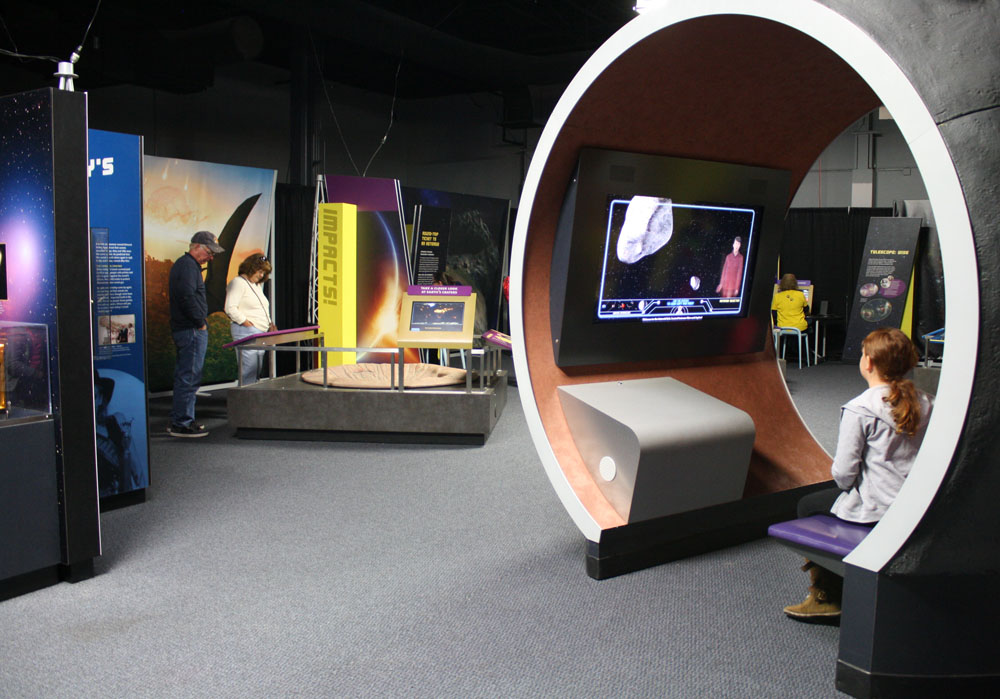 The "Great Balls of Fire" exhibit is on loan from the Space Science Institute in Boulder, Colo., and is included in the price of Discovery Center admission. The exhibit is made possible through sponsorship by: Elliot and Cynthia Pulham; and In honor of Anna and Kathryn Probert.
About the Space Foundation Discovery Center
The Pikes Peak region's only space, science and technology attraction, the Space Foundation Discovery Center is located at 4425 Arrowswest Drive in Colorado Springs. Summer hours, effective June 1 through Aug. 15, are Monday through Saturday, 10:00 a.m. – 5:00 p.m.
See details about daily admission fees and other information at www.spacefoundation.org/museum.

This article is part of Space Watch: June 2015 (Volume: 14, Issue: 6).
---
Posted in Space Foundation News