Spotlight
---
Happening at the Discovery Center: Take a Space-cation!
Written by: developer
July will be an exciting month at the Space Foundation Discovery Center in Colorado Springs, with guest presenters, Cool Science®, robotic rovers and hands-on activities to help you imagine you're a space explorer. Take a space-cation without leaving the planet!
The following presentations are included with Discovery Center admission or Discovery Passport.
NASA Senior Support Scientist Dr. Stephanie Uz, discussing ocean biology and Earth science:

Tuesday, July 14, 11:00 a.m.
Wednesday, July 15, 11:00 a.m.

Meet former NASA astronaut Dr. Leroy Chiao, Space Foundation Special Advisor – Human Spaceflight:
Thursday, July 16, 2:00 p.m., 4:00 p.m., photos and autographs

Friday, July 17, 11:00 a.m., 2:00 p.m., 3:00 p.m., photos and autographs

Saturday, July 18, 11:00 a.m., 2:00 p.m., Audience with an Astronaut
In July, we will get a taste of three themes as a part of our Summer of Discovery programming. "Next Stop Mars" runs through July 11; "Exploring our Universe" begins July 13 and ends July 25, and our final theme, "Journey to the Future," will begin July 27 and run through Aug. 14.
With our first of these three, "Next Stop Mars," we have been examining what it would be like to live on the red planet, including creating your own paper space suit vest. The Mars Robotics Laboratory remains open each day for guests to try their hand at driving a model rover on our Martian terrain. Please note, we will be closed July 3-5 for the holiday weekend, but will have a Super Saturday event on July 11, including special guest presenter, Cool Science® and a tasty special activity creating an edible Mars rover.
On July 13, we begin our next space-cation theme, "Exploring our Universe." This theme will help put into perspective just how big our known universe actually is. We will scale the universe down so you can walk from the Sun to Pluto in just 100 short feet. We will be creating exoplanets and aliens to get an idea of the great unknowns in space, and at high noon every day we will look at the sun with our telescope for signs of sun spots and solar storms.
With Super Saturdays on July 18 and 25, extra activities will include screenings of the film, Journey to Space, and the opportunity to create your own spray paint art.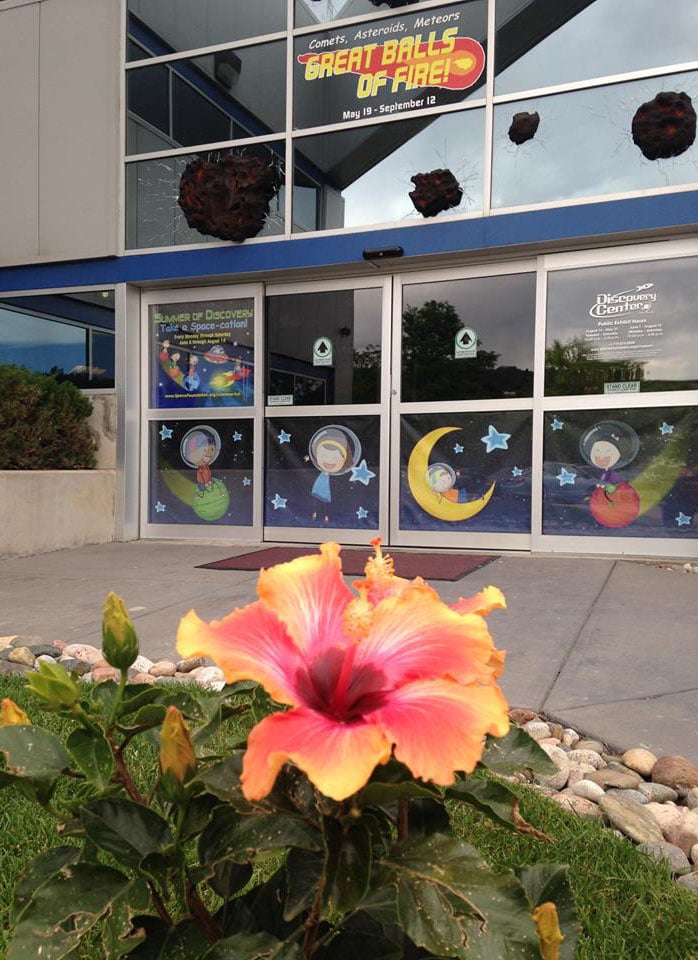 The last week of July, we will begin our final space-cation, with a "Journey to the Future." During this far-out theme, we will build a city of the future and work on our skills as inventors as we create an original game that you can take home with you. Rocket Alley will be open the entire month, with a new aerospace challenge associated with each theme. Test and launch a new design with each space-cation.
Also, see "Great Balls of Fire: Comets, Asteroids and Meteors," a 3,000 square foot interactive exhibit that details the origins and study of asteroids, comets and meteors, and examines potential threats to our planet, at the Discovery Center through Sept. 12, and included in the price of admission.
For more details about how to take a space-cation with us this summer, click here!
This article is part of Space Watch: July 2015 (Volume: 14, Issue: 7).
---
Posted in Spotlight