Space Symposium
---
Generals Buck and Hyten to be Featured Speakers at 32nd Space Symposium
Written by: developer
The Space Foundation's annual Space Symposium is the single most important global space conference for connecting government, military and industry decision makers.
For 2016, the 32nd Space Symposium agenda includes sessions and presentations of special interest to the military, such as featured speakers Gen. John E. Hyten, Commander, Air Force Space Command, and Lt. Gen. David J. Buck, Commander, 14th Air Force and Commander, Joint Functional Component Command for Space.
The 32nd Space Symposium will be held April 11-14, 2016, at The Broadmoor in Colorado Springs, Colo., and in consideration of budget constraints, the Space Foundation offers reduced registration pricing for active duty military and government personnel.
Active military/government registration includes admission to Symposium general sessions, one ticket to a Symposium luncheon and a ticket to each Symposium dinner. It also includes admission to the Symposium's Lockheed Martin Exhibit Center and Pavilion, with more than 160 displays of the world's latest space technology, products and services.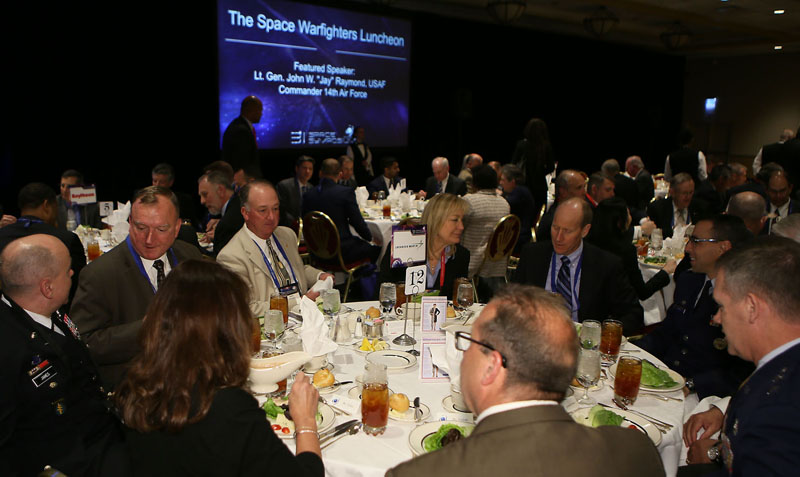 Take advantage now of the active military/government rate, with secure online registration here. Special military pricing does not apply to contractors who work for or with the government or military.
Reserve Tickets Now for Space Warfighters Luncheon
Lt. Gen. David J. Buck will be the featured speaker for the Space Warfighters Luncheon on April 12, and the luncheon will be followed by the Tuesday afternoon featured speaker, Gen. John E. Hyten.
Military/government tickets for the Space Warfighters Luncheon must be reserved at the time of Symposium registration here.
About Lt. Gen. Buck

Lt. Gen. Buck leads more than 19,500 personnel responsible for providing missile warning, space superiority, space situational awareness, satellite operations, space launch and range operations. As Commander, JFCC SPACE, he directs all assigned and attached USSTRATCOM space forces providing tailored, responsive, local and global space effects in support of national, USSTRATCOM and combatant commander objectives. He received his commission in 1986 as a distinguished graduate of Officer Training School. He served on The Joint Staff as principal military advisor to The Chairman of The Joint Chiefs of Staff for Coalition Management. In 2010, he deployed to Southwest Asia as the Director of Space Forces for U.S. Air Forces Central. He was previously the Vice Commander, Air Force Space Command. He earned a Bachelor of Science degree in business administration, a Masters of Business degree in administration, a Master of Science in national security and strategic studies, a Master of Science in national resource strategy, and he is a Distinguished Graduate from the Squadron Officer School.
About Gen. Hyten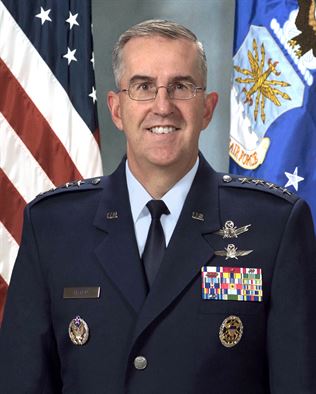 Gen. Hyten is responsible for organizing, equipping, training and maintaining mission-ready space and cyberspace forces and capabilities for North American Aerospace Defense Command, U.S. Strategic Command and other combatant commands around the world. Before assuming his current position, he was the vice commander, Air Force Space Command, Peterson Air Force Base, Colo.; director, Space Acquisition, Office of the Under Secretary of the Air Force, Washington, D.C.; director, Cyber and Space Operations, Directorate of Operations, deputy chief of staff for Operations, Plans and Requirements, Headquarters USAF, Washington, D.C.; director of Requirements, Headquarters Air Force Space Command, Peterson Air Force Base; commander, 50th Space Wing, Schriever Air Force Base, Colo.; and director, Commander's Action Group, Headquarters Air Force Space Command, Peterson Air Force Base. He earned a bachelor's degree in engineering and applied sciences from Harvard University and a Master of Business Administration from Auburn University, Montgomery, Ala.
This article is part of Space Watch: December 2015 (Volume: 14, Issue: 12).
---
Posted in Space Symposium