Spotlight
---
USAFA Cadets Pack Up the Big Red Dog at the Discovery Center
Written by: developer
In January, the Space Foundation Discovery Center said good-bye to the first traveling exhibit made possible through its new partnership with Pikes Peak Children's Museum. Adventures with Clifford The Big Red Dog was an exhibit for very young children that supported literacy and socialization skills, and was extremely popular with preschoolers.
The exhibit was packed up and moved out of the Discovery Center in mid-January with the volunteer help of Cadet Squadron 21, U.S. Air Force Academy (USAFA) Class of 2016, coordinated by C1C Jazmin Furtado, as a community service project.
"We take great pride in our community in Colorado Springs. It humbles us to witness the strength, drive and love that resides here, and we are always looking for opportunities to show our appreciation. We thank the Space Foundation for giving us yet one more and for helping our community thrive," said Furtado.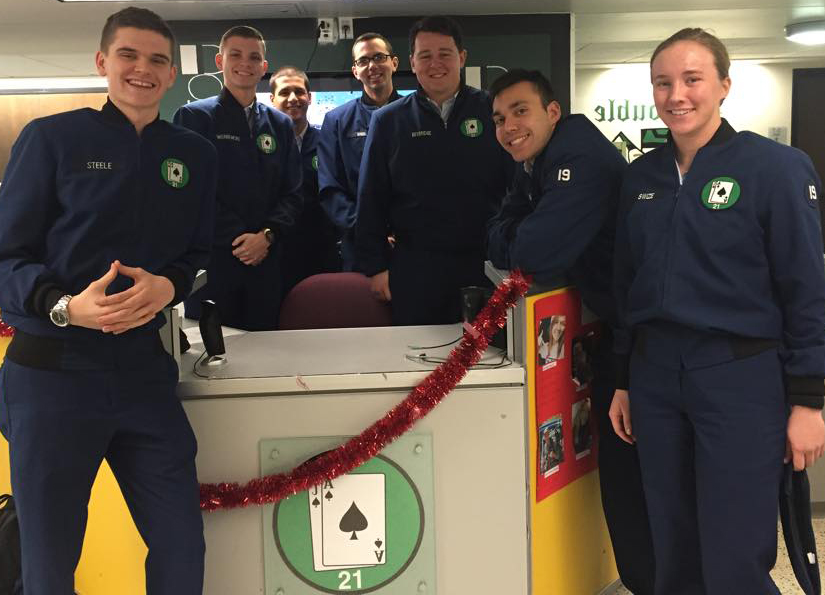 The USAFA cadet volunteers included (left to right):
Wyatt Steele
Charlie Wisniewski
Jonah Bhide
Rob Breen
Ryan Beveridge
Keith Batista
Emmie Swize
The extra volunteer help was greatly appreciated by Space Foundation team members who worked through the Dr. Martin Luther King, Jr., holiday weekend to pack up the 1,500 square foot Clifford exhibit and ship it off to its next destination.
"We really could not do the work we do without the volunteer support of those who believe in our mission," said Jennifer Picard, Space Foundation Volunteer Program Coordinator. "We work with year-round volunteers, event volunteers and project volunteers. The generous time and energy volunteers give each year, each event, each project is invaluable, and we appreciate the support immensely!"
The current traveling exhibit at the Discovery Center is Raytheon's MathAlive!, designed to get students ages 7 to 14 excited about math by showing them its connection to the things they love most -- music, sports, movies and games. Learn more about the MathAlive! exhibit here.
For information about volunteering at the Discovery Center, click here, or email [email protected].
This article is part of Space Watch: February 2016 (Volume: 15, Issue: 2).
---
Posted in Spotlight