Space Foundation News
---
Honoring the Past, Inspiring the Future
Written by: developer
New Colorado Space Heroes Hall of Fame Program Benefits STEM Education
The Space Foundation recently launched a new signature program that celebrates and recognizes the unique role of Colorado and Coloradans in the exploration, development and utilization of space.
The new Colorado Space Heroes Hall of Fame will honor the astronauts, aerospace executives, government officials, scholars and other public and private sector leaders who have contributed most significantly to the evolution, success and development of Colorado's space economy as one of the most important in the nation and world. The program will honor those who have come before, in order to inspire those who will be our future heroes.
The past is our history, and it has been the vehicle that has carried us to this moment. Our future resides with the children who come through the doors of our Discovery Center in Colorado Springs each week to be inspired by space. Those children need a vehicle to carry them into the future, and our robust and innovative Space Foundation education programs are that vehicle.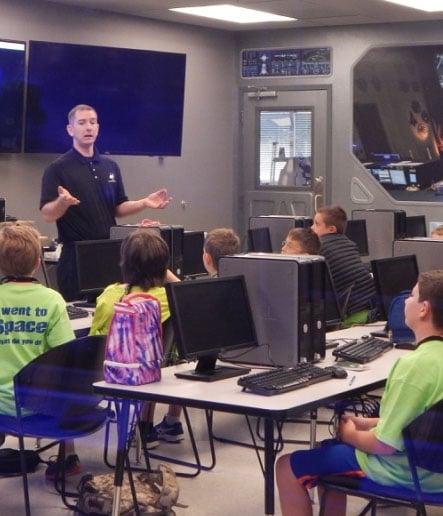 Space Foundation Education Programs
Science, technology, engineering and mathematics (STEM) is driving our global marketplace. Strengthening STEM education and experiences for students is a critical component to support innovation. STEM literacy prepares students to be critical thinkers, to persevere through failure to achieve success, to communicate and collaborate across real and perceived barriers and to solve complex and ever-changing problems. Students with these competencies will drive innovations and fuel our increasingly STEM-based economy.
The Space Foundation, with its powerful educational programs and unique facilities, is reinventing education to inspire young minds by creating a place and programs that are engaging, and get them excited about learning, especially in STEM. We annually serve more than 20,000 students and teachers in our standards-based, hands-on education programs, conducted both in person and virtually all over the globe. For more information on our many educational offerings, click here.
The Space Foundation is a nonprofit that promotes all things space, and we are dedicated to inspiring the next generation of space heroes.
Celebrate World Space Week at the Colorado Space Heroes Hall of Fame Gala
Make plans now to attend the first Colorado Space Heroes Hall of Fame Gala, to be held at Denver's Mile High Station on Friday, Oct. 7, 2016. The honorees will be announced soon. Please plan now to join us during World Space Week for this landmark gala.
Proceeds benefit education programs of the Space Foundation. Tickets and sponsorship opportunities are available at the Colorado Space Heroes Hall of Fame website here.

This article is part of Space Watch: August 2016 (Volume: 15, Issue: 8).
---
Posted in Space Foundation News