Space Foundation Press Releases
---
Shelli Brunswick, Space Foundation COO, Receives 'Diversity & Inclusion Officer/Role Model of the Year' Accolade at WomenTech Global Awards 2020
Written by: Space Foundation Editorial Team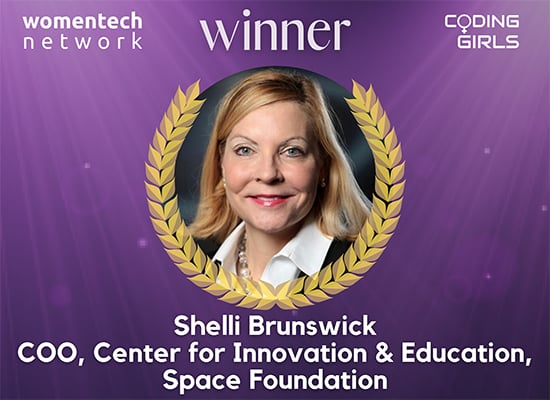 Brunswick among honorees selected out of 2,238 nominees from 153 countries
Dec. 3 virtual ceremony celebrated 100,000 women, minorities, and allies in tech
WomenTech is the world's largest community for women in tech, with 4,500-plus ambassadors representing 161 countries
COLORADO SPRINGS, Colo. — Dec. 10, 2020 — Space Foundation, a 501(c)(3) global space advocate for nearly 40 years proudly announced today that Shelli Brunswick, the organization's Chief Operating Officer and Executive Leader of its Center for Innovation and Education has been recognized as the "Gold" winner in the Diversity & Inclusion Officer/Role Model of the Year category by WomenTech at the WomenTech Global Awards 2020. The Dec. 3 ceremony was the largest virtual award celebration in technology for women, minorities, and their allies.
The WomenTech network is the world's largest community for women in tech, with a membership of more than 100,000 women from 181 countries. The organization's mission is to support the empowerment of women in technology professions through leadership development, professional growth, mentorship, and networking events for professionals — promoting ​gender diversity in tech and connecting talented professionals with top companies and leading startups that are striving to create a culture of belonging.
Honored in this recognition among the most accomplished women in tech, Shelli was selected from 2,238 nominees worldwide in 22 categories. She received the award because of her tireless advocacy for diversifying the space community's talent pipeline and working to prepare new entrepreneurs to take their place in the $424 billion space economy.
Brunswick joined the Space Foundation in 2015 after a distinguished career as an acquisition and program management leader for the U.S. Air Force, working both within the Pentagon and on Capitol Hill. Her work to advocate for the inclusion of underserved groups stems from staying true to the values instilled while she was in the military. She's passionate about sharing her journey, giving back to the space community, and contributing to the development of the next-generation workforce.
Shelli speaks at organizations and events around the globe to advance space technology innovation partnership and collaboration opportunities, chairs the Women in Aerospace (WIA) Foundation, and hosts the Women's Global Gathering annually at the Space Symposium. She also oversees Space Foundation's Center for Innovation and Education which, after more than two years in development, now creates and delivers inclusive, innovative, and sustainable workforce development and economic opportunity programs. In addition to advancing that program, Brunswick is one of only 35 women worldwide to be selected by the United Nations as a mentor for its Space4Women program.
Commenting on her many advocacy projects and the WomenTech Global Award recognition, Shelli said, "When I left Capitol Hill to come to Colorado Springs and work for Space Foundation, I told my team in the Air Force Congressional Liaison office that I saw this as an opportunity to serve the greater good beyond the military, and today I am living that out through the Center for Innovation and Education at Space Foundation, and my global outreach work with WomenTech Network, Space4Women, Women in Aerospace, and many other new initiatives that present themselves every day."
Brunswick will be speaking and sharing her story at the next WomenTech Global Conference, the world's largest online summit series and celebration of women in technology, which will be presented June 7–11, 2021.
About Space Foundation
Space Foundation is a 501(c)(3) nonprofit advocate for the global space community. Through a partnership model, its Center for Innovation and Education unites the entire spectrum of global stakeholders, including public and private businesses, government agencies, educational institutions, and local communities, to serve the entire life cycle of the workforce, from students and young leaders to entrepreneurs and professionals. Best known for its annual Space Symposium, and now the digital Space Symposium 365, Space Foundation also publishes The Space Report, its quarterly authoritative guide to research and analysis of the space industry. Headquartered in Colorado Springs, Colo., Space Foundation's Discovery Center offers rich programming on-site and online for teachers, parents, and students. Visit Space Foundation at www.SpaceFoundation.org, and follow us on Facebook, Twitter, Instagram, LinkedIn, and YouTube.
About WomenTech Network
WomenTech Network is the world's largest community for women in tech with more than 4,500 ambassadors representing 161 countries. Since 2018, its founders have engaged 141,000-plus tech specialists to join in building a diverse global community inspiring and reaching more than one million people in 2020 alone. The network strives to increase gender diversity in the workplace and to improve equality across all areas like representation, promotion, and equal pay. The network's mission is to empower communities of talented and motivated women in tech through leadership development, professional growth, mentorship, and networking events to make a difference by building impactful and inclusive technology, while introducing them to like-minded people, inspiring speakers, and opportunities to lead companies and innovative startups that aim to assemble diverse teams.
###
All brand names and product names are trademarks or registered trademarks of their respective companies.
Tags: Space Foundation, WomenTech Global Awards 2020, Shelli Brunswick, Diversity & Inclusion Officer/Role Model of the Year award, women in technology, women's mentorship, diversity in tech, networking, Center for Innovation and Education
Media Contact:
Rich Cooper
Vice President, Strategic Communications & Outreach
Space Foundation
(202) 596-0714
[email protected]
[email protected]
Media Contact:
Anna Radulovski
Founder & CEO
WomenTech Network
US: +1 (650) 603-0080
Europe: +352661536253
[email protected]
---
Posted in Space Foundation Press Releases