Space Foundation News
---
Space Foundation COO Presented with Global AeroTime Aviation Achievement Award for Gender and Diversity Advocacy
Written by: Space Foundation Editorial Team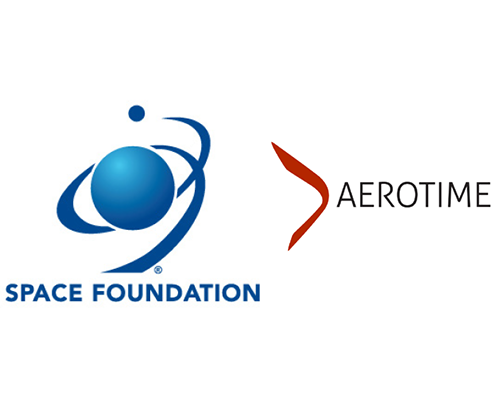 Shelli Brunswick recognized for work toward space industry gender equality
Award presented by AeroTime Global Chief Executive Richard Stephenson, OBE
The award has been presented to just 25 people across five continents
 COLORADO SPRINGS, Colo. — Sept. 15, 2021 — Space Foundation, a nonprofit advocate organization founded in 1983 for the global space ecosystem, today announced that the organization's COO, Shelli Brunswick, has been awarded the AeroTime Aviation Achievement Award by the AeroTime international aviation news outlet's global executive. The presentation of this award comes as AeroTime marks the six-month milestone of its Women in Aviation campaign.
The award recognizes Brunswick's dedication to achieving equity and diversity in space technology. She is a thought leader, speaker, author, mentor, coach and operational expert.
Brunswick began her career in the U.S. Air Force immediately after high school, later becoming a space project manager. In 2015, she became COO of Space Foundation and was selected as the 2020 Diversity and Inclusion Officer / Role Model of the Year by WomenTech Network, as well as multiple local, national and international board memberships. She is one of only 54 women worldwide to be selected by the United Nations as a mentor for its Space4Women program.
Space Foundation advocates for innovation in the space sector with the objective of improving life on Earth. The team leads events, builds partnerships and collaborations, and runs the Center for Innovation and Education, the goal of which is to create access for all individuals to the space industry. The center runs programs in person and virtually, including formal education programs, teacher training, girls-in-STEM programs, and more.
Brunswick becomes the 26th recipient to be awarded the AeroTime Aviation Achievement Award. Previous recipients cover five continents and have all made exceptional contributions to the space and aviation industries in areas including safety, environmental impact and inter-generational outreach.
Commenting on the accolade, recipient Brunswick said, "I am honored to receive this award, which I hope will amplify our call for more women to enter the space sector. We need astronauts and rocket scientists and other technical skills in the space ecosystem. But we also need space lawyers, space policy advocates, entrepreneurs, artists and project managers.
"I am standing here because of the thousands of people who have made the way possible for me to be here as well as excellent mentors, champions and role models that helped forge the way for me and others. And I hope, with AeroTime, to give back to the next generation so we can lay a future path for them."
Chief Executive of AeroTime Richard Stephenson OBE, who presented the award to Brunswick, shared, "I so enjoyed speaking to Shelli and was privileged to be able to present her with this thoroughly deserved award. She has been a tireless advocate for women and, more widely, the next generation of space professionals. Her multiple appointments and extensive outreach to different groups around the world typify her commitment to gender equality across the industry."
Read the AeroTime editorial about Shelli Brunswick's story and watch the interview during which she is presented with the award: https://www.aerotime.aero/28812-%20Space-foundation-shelli-brunswick
About AeroTime
AeroTime is a global multi-channel aviation digital hub providing news, recruitment, events and digital services to the aviation world. They are a people-oriented aviation media and business solutions provider combining world-class breaking news, aviation intelligence, industry events and a wide array of recruitment services. The AeroTime family combines six separate brands: AeroTime News, AeroTime Recruitment, AeroTime Events, AeroTime Pilot Training, aviation conference AIR Convention, and a job-board for aviation professionals AviationCV.com. For more information, please see www.aerotime.aero and follow us on Facebook, Twitter, Instagram and LinkedIn.
About Center for Innovation and Education 
Center for Innovation and Education, a division of Space Foundation, is a lifelong learning platform for the global space ecosystem that offers workforce development and economic opportunity for students, teachers, entrepreneurs and professionals via digital programming or live at Discovery Center in Colorado Springs, Colorado. Through its Workforce Development Roadmap, sponsored programs, and global collaborations, Center for Innovation and Education enhances the outlook and opportunities for new jobs, careers and new business ventures through its Space Commerce Entrepreneurship Programs, New Generation Young Professional Program, Professional Teacher Training, and Space-Inspired Curriculum. To learn more about Center for Innovation and Education, please visit www.spacefoundation.org/cie, and visit www.discoverspace.org to learn more about Space Foundation Discovery Center.
About Space Foundation
Space Foundation is a nonprofit advocate organization founded in 1983, offering a gateway to information, education and collaboration for space exploration and space-inspired industries that define the global space ecosystem. Driven by a partnership model, Space Foundation operates three divisions that unite the entire spectrum of stakeholders — business, government, education and local communities — through corporate membership, sponsorship, fundraising and grants: Symposium 365 is the premier source for media and events, including the world-renowned Space Symposium and The Space Report. Center for Innovation and Education is a lifelong learning platform. Global Alliance facilitates collaboration around the world. Visit Space Foundation at www.SpaceFoundation.org, and follow us on Facebook, Twitter, Instagram, LinkedIn and YouTube.
###
All brand names and product names are trademarks or registered trademarks of their respective companies.
Tags: AeroTime Aviation Achievement Award, AeroTime Hub, Space Foundation, Shelli Brunswick, gender equality, gender inclusivity, diversity, Center for Innovation and Education, space economy, space technology, space innovation, space ecosystem, space advocate, space commerce, space exploration, space-inspired industries
Media Contacts:
Rich Cooper
Vice President, Strategic Communications & Outreach
Space Foundation
(202) 596-0714
[email protected]
Dottie O'Rourke
TECHMarket Communications
(650) 344-1260
[email protected]
Richard Holme
AeroTime
[email protected]
---
Posted in Space Foundation News