Space Foundation News
---
International Astronautical Federation To Receive Space Foundation 2022 Space Achievement Award
Written by: Space Foundation Editorial Team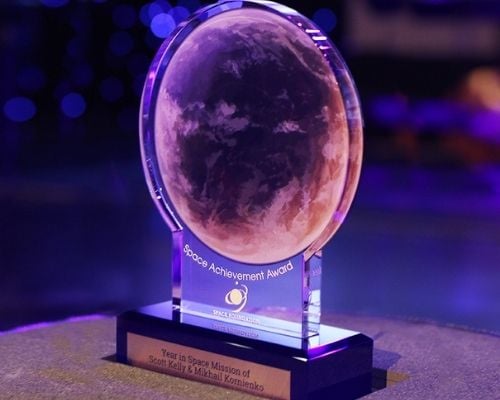 COLORADO SPRINGS, Colo. — Feb. 8, 2022 — Space Foundation, a nonprofit advocate organization founded in 1983 for the global space ecosystem, today announced that the International Astronautical Federation (IAF) has been selected as the recipient of this year's Space Achievement Award.
Established in 1995, Space Foundation's Space Achievement Award recognizes individuals or organizations that have demonstrated attainment, breakthrough space technology, or program or product success representing critical milestones in the evolution of space exploration and development. The Space Achievement Award is presented annually at Space Symposium.
"It is our honor to recognize International Astronautical Federation and call even greater attention to the tremendous accomplishments achieved since its inception," said Space Foundation CEO Tom Zelibor. "For more than 70 years, the organization has worked tirelessly to promote dialogue and inspire cooperation and connection among space nations through the fulfillment of their mission and activities."
The International Astronautical Federation was established in 1951, when scientists from the field of space research gathered to ensure a constant dialogue between the space nations, regardless of political turmoil. The IAF is the world's leading space advocacy body, with 433 members in 72 countries, including all leading space agencies, companies, research institutions, universities, societies, associations, institutes and museums worldwide. As the organizer of the annual International Astronautical Congress and other thematic events, the IAF actively encourages the development of astronautics for peaceful purposes and supports the dissemination of scientific and technical information related to space.
The award will be presented April 4, 2022, during Space Foundation's 37th Space Symposium opening ceremonies to be held at The Broadmoor in Colorado Springs.
About Space Symposium
Space Symposium is the premier assembly for the global space ecosystem, hosted by Space Foundation since 1984. The live event is widely attended by commercial and government leaders, young professionals, entrepreneurs, and educators in Colorado Springs, Colorado. Last year's 36th Space Symposium enabled its thousands of global attendees to seamlessly engage and conduct business both in-person and virtually via Symposium 365 Digital Platform. For more information, please visit www.spacesymposium.org.
About Space Foundation
Space Foundation is a nonprofit advocate organization founded in 1983, offering a gateway to information, education and collaboration for space exploration and space-to-Earth industries that define the global space ecosystem. Driven by a partnership model, Space Foundation operates three divisions that unite the entire spectrum of stakeholders — business, government, education and local communities — through support from corporate membership, sponsorship, fundraising and grants. Symposium 365 is the premier source for media and events, including Space Symposium and The Space Report; Center for Innovation and Education is a lifelong learning provider; and Global Alliance facilitates collaboration around the world. Visit Space Foundation at www.SpaceFoundation.org, and follow on LinkedIn, Facebook, Instagram, Twitter and YouTube.
###
All brand names and product names are trademarks or registered trademarks of their respective companies.
Tags: Space Foundation, Space Symposium, Space Achievement Award, International Astronautical Federation, space industry event, space technology, space innovation, space ecosystem, space exploration
Media Contacts:
Rich Cooper
Vice President, Strategic Communications & Outreach
Space Foundation
(202) 596-0714
[email protected]
Dottie O'Rourke
TECHMarket Communications
(650) 344-1260
[email protected]
---
Posted in Space Foundation News