Space Foundation Press Releases
---
Space Foundation Releases The Space Report 2023 Q3
Written by: Space Foundation Editorial Team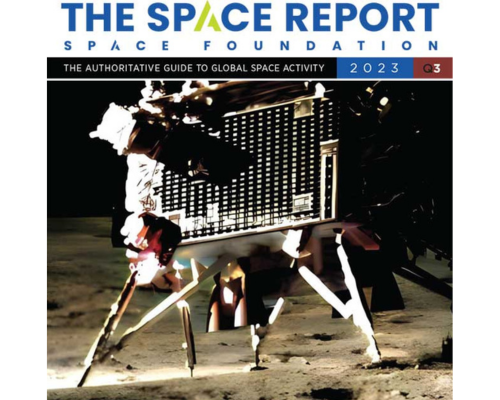 COLORADO SPRINGS, Colo. — Oct. 23, 2023 — Space Foundation, a nonprofit organization founded in 1983, offering information, education and collaboration for the global space ecosystem, will release The Space Report 2023 Q3 tomorrow, Oct. 24.
Highlights include:
Space workforce in the United States and around the globe showed continued strong growth.
India's lunar lander demonstrated the accelerating race for the Moon.
Space science surged with NASA asteroid samples and satellites to harness the sun's energy for use on Earth.
Growing concerns for U.S. leaders include funding for space, clearing UAPs, deterring antisatellite weapons.
Space Workforce Around the Globe Continues Strong Growth
The Space Report shows steady growth in the global space workforce despite competition for a pool of skilled workers that is showing signs of shrinking. Although the overall U.S. provable sector hiring slowed over the past year, private space employment growth accelerated in the first half of 2023 at a 3.4% rate. Europe's space workforce expanded by 8.2%.
The growing space industry's need for workers is expected to continue over the next decade, with many space-related occupations projected to grow twice as fast as average. Tumbling enrollment in technical fields at two-year colleges and vocational schools could lead to a labor shortfall as space industries enter mass production.
"The continued growth of the space industry is good news, and that comes with the need for more talent to keep pace with demand," said Space Foundation CEO Heather Pringle. "From giving tools to teachers and inspiring future leaders to building an online platform that helps people grow their skills or bring their experience to the space industry, Space Foundation and its Center for Innovation and Education are helping deliver the workforce needed today and building the bench of innovators for the future." 
Global Space Progress
In space infrastructure, the optimistic outlook for the space industry comes after India's successful landing of a lunar probe added urgency to efforts in the United States and China to put the first humans on the moon since the Apollo era. A team of scientists from around the globe is examining NASA's first asteroid sample successfully returned to Earth.
In another landmark for the industry, multiple countries and academic institutions are demonstrating proof of concept for space-based solar power satellites. The satellites could outperform ground-based solar facilities and assist with the European Union's carbon-neutral goal, but infrastructure costs remain daunting. In the third quarter, Virgin Galactic offered its first tourist flights to the edge of space. With Blue Origin expected to soon return to the space tourism market, the number of private astronauts is expected to boom in coming years.
Despite a choppy quarter for some space startups, established space firms posted gains of 3% for the quarter, outperforming overall markets. Scotland is leveraging government enticements and its skilled labor force in a bid to rule the European marketplace for small satellites and launch vehicles to lift them to orbit. Plans include growing Scotland's space workforce from 8,400 to 20,000 by 2030.
Leaning on AI
In space products and innovation, leaders are increasingly leaning on the power of artificial intelligence (AI) to parse through the growing volume of data obtained by satellites. NASA and IBM's first open-source foundation model released in August, and other AI tools are being trained to label features of interest in Earth observation data, cutting out one of the most time-consuming tasks and allowing even nonexperts to quickly derive insights.
Growing Concerns for U.S. Leaders
In the U.S., lawmakers were still working on a federal budget for the fiscal year that began Oct. 1. Several space policy concerns also drew recent scrutiny. For the first time since the Cold War, the Pentagon asked Congress to back U.S. antisatellite weaponry amid growing threats from rival powers, including Russia and China. U.S. leaders continued outreach on the Artemis Accords, which outline rules of conduct in space. Another topic drew public interest in the United States: Unidentified Aerial Phenomena (UAP). Formerly called UFOs, uncommon objects sighted in the sky are now being tracked by NASA and the Pentagon as lawmakers in Congress demand more transparency on a topic that was once considered more fiction than science.
About The Space Report
The Space Report, published by Space Foundation since 2006, is the authoritative report on the global space ecosystem, covering space exploration and space-to-Earth industries. Available on a subscription basis, The Space Report provides policy analysts, congressional staff, investors, media, and space industry newcomers with research and insight on a quarterly basis. Highlighting each report is an overview of the latest data available on the space economy, space infrastructure, and other key industry indicators as well as analysis of commercial, government and educational events impacting business, workforce and our daily lives.
About Symposium 365
Symposium 365 is the premier source for information and events in the global space ecosystem, offering authoritative news and insight as well as opportunities for networking and conducting business via Space Symposium and The Space Report. Serving commercial, government and education sectors, programs and resources are delivered in-person and online around the globe. To learn more about Symposium 365, visit www.spacesymposium 365.org.
About Space Foundation  
Space Foundation is a nonprofit organization founded in 1983, offering information, education and collaboration for the global space ecosystem. Driven by partnerships, Space Foundation unites the entire spectrum of stakeholders — business, government, education and local communities — through support from corporate members, sponsors, fundraising and grants. Visit Space Foundation at www.SpaceFoundation.org, and follow us on Facebook, X, Instagram, LinkedIn and YouTube.
 ###  
All brand names and product names are trademarks or registered trademarks of their respective companies.
Tags: Space Foundation, The Space Report, Symposium 365, Center for Innovation and Education, space economy, space launch, space technology, space innovation, space ecosystem, space advocate, space commerce, space exploration, satellites, space spending, commercial space, space defense
Media Contacts:  
Rich Cooper
Vice President, Strategic Communications & Outreach
Space Foundation  
(202) 596-0714
[email protected]
Dottie O'Rourke
TECHMarket Communications
(650) 344-1260
[email protected]   
---
Posted in Space Foundation Press Releases