Corporate Membership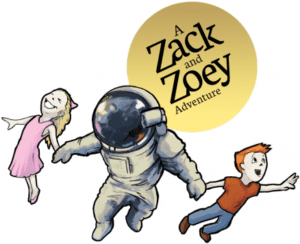 Jeff's goal with the Zack and Zoey Adventures™ brand is to light the fire of children's imagination with space and STEM topics which will last a lifetime!
What led Jeff to create Zack and Zoey Adventures™ is actually a 25-year journey, one to which he'll bet you can relate…
From a very young age, Jeff was a space and science geek with the dream of becoming an astronaut. Seventh grade eyeglasses, however, put an end to that dream, so he adjusted his dream to astronomy or astrophysics. After winning an essay contest his junior year of high school, he was awarded an internship (which turned into a job) running the Planetarium at the New England Science Center (now the Ecotarium) in Worcester, MA.
While loving all things space, the adults in his life told him it would be difficult to make a career as a 'space geek', so he ended up choosing a more 'employable' field, accounting. By college graduation, Jeff couldn't imagine a career in accounting, so his next move was to join the Air Force. After 11 years in the Air Force as an enlisted airman, and officer and a civil servant, Jeff left the service to become the Owner/Director of a junior Olympic volleyball club and start his own Life & Business Coaching business.
It was during this time, Jeff began volunteering at the Discovery Center, which helped him get back into 'space geek mode' as he calls it. Jeff regained a focus on his two true passions in life – one being his daughter Zoey (who also loves all things space!) and the other being space exploration and education.
Combining these passions led Jeff to write his first book in the Zack and Zoey Adventures™ series, Field Trip to the Discovery Center, which has been honored as a Space Certification™ Certified Imagination Product.
Since writing Field Trip to the Discovery Center, Jeff launched a new space and STEM-based children's magazine titled S.T.E.M. to Bloom, aimed at teaching both kids and families how inspiring and fun these important topics can be.