Space Certification
Space Imagination Products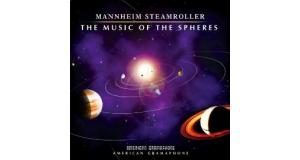 Music of The Spheres – Music CD & Concert Tour
Music of the Spheres
Chip Davis' "Music of the Spheres" CD project is a Certified Space Imagination Product that helps to elevate public and legislative awareness and support for space exploration.
The space-themed music includes the original piece "Escape from the Atmosphere," which incorporates the sounds and launch sequence of the space shuttle Discovery as its seven-member crew roared into space July 4, 2006 — NASA's first manned launch on Independence Day and its second shuttle flight following the Columbia accident of 2003.
"Escape from the Atmosphere" was performed live at the Opening Ceremony of the 23rd National Space Symposium. Chip has also created a new song called "Spacewalk" that was written exclusively as the Space Foundation's theme song and incorporates the sounds of the STS-115 Atlantis crew landing on September 21, 2006.  It, too, was premiered at the Opening Ceremony with samplers of the space-themed music distributed to all attendees.
American Gramaphone contributed a portion of the proceeds from the sale of "Music of the Spheres" to the Space Foundation space awareness programs that promote public awareness and appreciation of the many practical benefits of space exploration.
The success of Mannheim Steamroller and American Gramaphone is testament to the power of "word-of-mouth enthusiasm".
Mannheim Steamroller has sold over 40 million records – 27 million in the Christmas genre– making the group one of the top 50 biggest selling musical artists of all time and THE biggest selling Christmas artist of all time. Owner Chip Davis has produced hundreds of sold-out Mannheim Steamroller concerts around the world, and his American Gramaphone record label stands as one of the most successful independent music franchises in history.