Space Certification
Space Imagination Products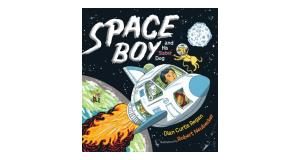 A trip to the moon in search of a neighbor's lost cat is all in a day's work for Niko, the young protagonist in 'Space Boy and His Dog' by Dian Curtis Regan and beautifully illustrated in full color by Robert Neubecker (distributed by Boyds Mills Press, April 2015).
Niko may live on boring old Earth with his family, but he's always finding a new adventure. Using the spaceship that he built from a box in his backyard and a little imagination, he blasts off with his toy robot, Radar, and his dog, Tag. The only one NOT invited is his sister, Posh, who keeps trying to insert herself into Niko's story. Illustrated in panels in the style of a graphic novel, 'Space Boy and His Dog' is the first in a planned trilogy of adventures with Niko and crew (and perhaps even pesky Posh).
When Niko's cousin Sasha is kidnapped by a space pirate (otherwise known as Niko's annoying sister, Posh) in 'Space Boy and the Space Pirate', he knows it's up to him to save her. Along with his robot copilot, Radar, and his trusty dog, Tag, he blasts off in his homemade spaceship and zips through the stars to Planet Zorg. But when he charges in for the rescue, the space pirate and her captive take over Niko's ship and his story! Will Niko be able to end the story his way and make it back to Planet Home in time for supper?
Dian Curtis Regan's charming intergalactic adventure is a celebration of the power of pretend play and the art of storytelling.
The Space Foundation is pleased to include copies of the publications in the Zimkas Library.
For more information on the Space Boy series, please visit http://diancurtisregan.com/books/picture-books/spaceboy-books/