Space Certification
Space Technology Products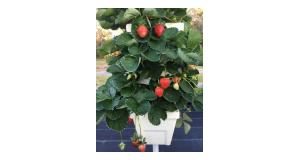 Sweetgrass Farms, a hydroponic "micro-farm", commercial farm, small business R&D facility, and a unique eco-tourism venue located in Sarasota FL. It is a leading vertical hydroponic vegetable production farm and is the first hydroponic farmer to convert their farm to the Florikan CRF, a Certified Space Technology Product.
Sweetgrass Farms represents an innovative public-private mutually beneficial interaction bringing technology developed for and by the space program to everyday products and, in this case, fruits and vegetables.  It also demonstrates the commercial uses of the Controlled Release Fertilizer developed under a NASA research assistance program and in several different ways "bringing space technology to the American dinner table".
The technologies on display at Sweetgrass include vertical hydroponic you-pick strawberries, advanced hydroponic growing system for tomatoes and other garden vegetables, experimental recirculating-water hydroponic units, and a newly planted giant bamboo plantation all grown with the Florikan Controlled Release Fertilizer.
As Sweetgrass also provides educational tours of their farm to hundreds of students a year.  In community outreach, Pine View School is planning the first school field trip to the farm in February 2017 (photos to follow).
The recirculating-water hydroponic units use the Florikan space age fertilizer as in use on ISS currently in growing units designed for urban environments where arable soil and broadcast irrigation are not available, for example on apartment balconies, rooftops and pavement.
Additionally, Sweetgrass works closely with Florikan growing NASA Veggie plant species to test our rates and plant species response on Earth and has grown full crops of NASA cabbage Tokyo Bekana, NASA Red Robin Tomato and the same red romaine lettuce as is being grown on ISS.  The cooperation with Florikan has greatly assisted research with NASA Veggie plant selection.
"We are proud of and very humbled by the certification granted us by the Space Foundation. Our association with Mr. Rosenthal and the Florikan family has been one of joy and inspiration. It is our sincere pledge to you and to everyone at NASA and the Space Foundation that we will continue to work diligently to further the advancement of the science of growing. We can think of no loftier goal than to contribute to our fund of knowledge for the benefit of earth and space exploration."             Dr. Jim and Kathy Demler, Founders – Sweetgrass Farms, LLC