Report from Washington, D.C.
---
Space Foundation Says Keep ISS Going
Written by: developer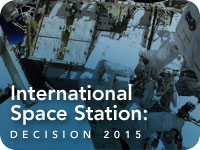 A Space Foundation white paper issued this fall strongly recommends that the United States keep the International Space Station (ISS) functioning until at least 2020 and beyond, if possible.
The recommendation is the key message of a Space Foundation white paper, The International Space Station: Decision 2015, that argues for continued U.S. involvement to further scientific study, maintain positive international collaboration, and significantly improve the nation's space-related return on investment.
"To abandon the International Space Station now that it is just becoming fully functional would be illogical and unwise from both scientific and political perspectives," said Space Foundation Chief Executive Officer Elliot Pulham. "In the more than two decades we've taken to create this marvel of engineering and international cooperation, we've reaped tremendous rewards. But," he continued, "I believe we're just now on the cusp of understanding the real value of this endeavor."
The U.S. is considering wrapping up its ISS involvement in 2015 and letting the $100 billion orbiting laboratory re-enter the Earth's atmosphere and burn up in 2016. The ISS is both the largest and the most collaborative human-made object ever to orbit the Earth. Fifteen countries are involved in the project, 11 of which have operations centers. To date, ISS education programs have reached more than 31 million U.S. students.
The first module of the ISS was launched in 1998, with multiple missions adding to the station over the years. ISS laboratory and research space tripled in 2008 with the addition of the European Space Agency's Columbus module and the Japan Aerospace Exploration Agency's Kibo module. Construction is scheduled to be completed in 2010, after which the cost of continuing operations should be relatively low, while the potential benefits to be gained from onboard research and development will be higher than at any previous time. The U.S. initiated the ISS program and continues to manage assembly, servicing, operation, resupply, and most astronaut training for the station program.
"If the U.S. allows ISS leadership to lapse, it will likely fuel negative international perceptions about our leadership, our reliability as an international partner, and our commitment to scientific and technical endeavors," said Pulham.
Rationale for Recommendation
The International Space Station: Decision 2015 provides a strong argument for keeping the ISS operating, stating that lengthening ISS' lifespan will benefit the U.S. by:
Helping maintain international space leadership;
Demonstrating reliability as an international collaborator;
Driving continued space-driven innovation;
Preparing the nation for long-term space exploration;
Offering education programs that inspire students and enhance competitiveness in math and science;
Nurturing the high-tech workforce, contributing to global competitiveness;
Encouraging commercial space development; and
Capitalizing on the $100 billion already invested.
"Beyond recommending continued involvement," said Pulham, "the Space Foundation believes that we must maintain a comprehensive research agenda with participation from government agencies, academic institutions, and commercial enterprises, using the phenomenal resources available aboard this orbiting international laboratory. "Many research projects are directed at Earth-based issues, such as disease prevention or alternate energy sources, in addition to research that supports space exploration. Plus, the ISS is the only existing platform that allows long-term, tended research in microgravity conditions.
Space Foundation Recommendation Consistent with Findings of Special Commission
The Space Foundation's recommendation to keep the ISS functioning until at least 2020 is supported by findings in the Review of U.S. Human Space Flight Plans Committee Report, which was released in October. The Committee, chaired by retired Lockheed Martin CEO Norm Augustine, was established by the Obama administration to evaluate U.S. human space flight programs and develop alternatives to ensure that future human space flight plans are safe, innovative, affordable, and sustainable.
The Report noted that, "The return on investment to both the United States and our international partners would be significantly  enhanced by an extension of ISS life. Not to extend its operation would significantly impair U.S. ability to develop and lead future international spaceflight partnerships."
Read the Full White Paper
To read The International Space Station: Decision 2015 or download a copy, go to www.SpaceFoundation.org/research. The paper includes more detail on the Space Foundation's recommendations and a comprehensive history of the ISS.
This article is part of Space Watch: November 2009 (Volume: 8, Issue: 11).
---
Posted in Report from Washington, D.C.