We could not do the work we do without the generous and tireless support of volunteers. If you are interested in space, this is the place to be. We provide meaningful work for our volunteers that contributes directly to supporting our mission: to inspire, educate, connect, and advocate for the global space community.
We offer both long-term and short-term volunteer opportunities, with the goal of assisting our education, operations, development, communications and marketing teams at Space Foundation world headquarters, at our Washington, D.C., office, or at the annual Space Symposium.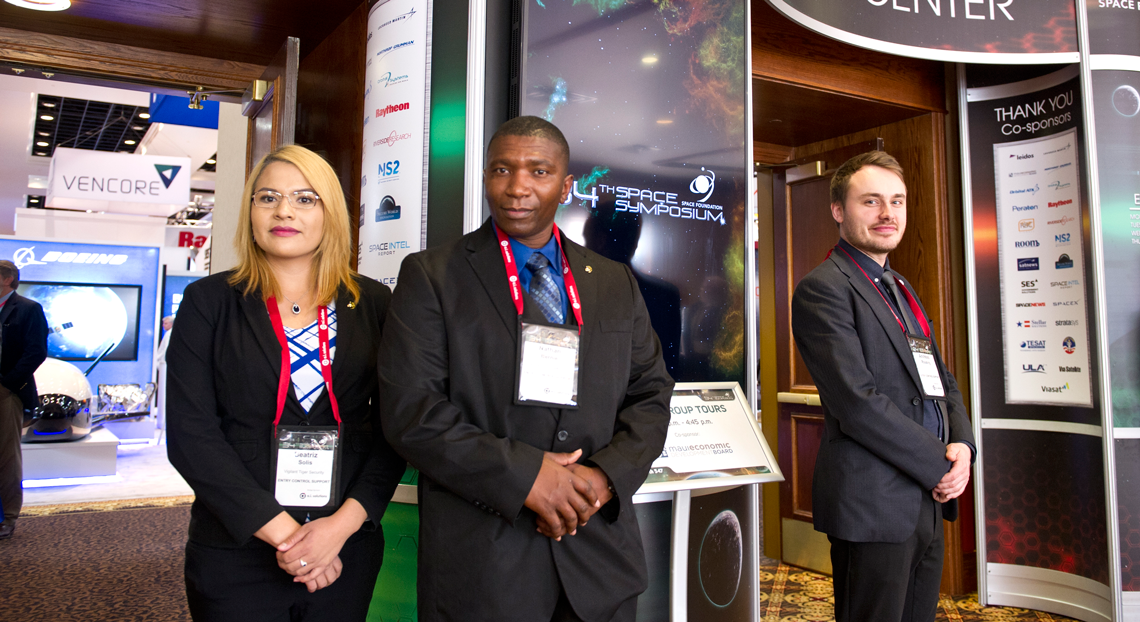 Have a positive impact on the exploration of space and the global benefits space provides
Meet and work with influential space leaders
Integrate volunteering with your education, professional training or career advancement
Enhance your knowledge of space sectors, programs and organizations
Earn recognition throughout the year with various incentives
Year-Round Volunteer Opportunities
We have a number of projects that require ongoing support, all with varying levels of skill requirements and time commitment — ranging from just a few hours per month to weekly assignments. Projects include:
Support for our mission at offsite festivals, conferences and educational enterprises by representing, networking and doing outreach with other organizations investing in space.
Support for student groups and public visitors to the Discovery Center of all ages — during daytime hours and for events that occur during evening and weekend hours.
Space Foundation Discovery Center Volunteer Opportunities
Currently recruiting for Tuesday-Saturday day and evening volunteer shifts.
The Space Foundation Discovery Center is comprised of the Northrop Grumman Science Center, which includes Science On a Sphere®; the Lockheed Martin Space Education Center, which includes the AGI Space Missions Simulation Laboratory and the Mars Robotics Laboratory; and the El Pomar Space Gallery, which features space artifacts and exhibits. There are a variety of volunteer positions available, and Discovery Center volunteers may work as little as two four-hour shifts per month, or as much as five days a week. Shifts are flexible and we'll work with your schedule. Onsite and online training are provided.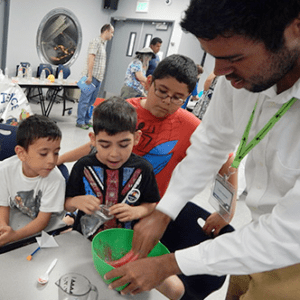 Activity Support in Space Foundation Discovery Center—Activity Support Volunteers help us deliver our space awareness message and enlighten the public on the importance and fun of STEM (Science, Technology, Engineering and Math)! These important volunteers support various Discovery Center visitor activities and programs. A volunteer may provide support for activities such as Tesla's toolbox, Family Star party, Homeschool Days, etc. In addition, Activity Support Volunteers support the Discovery team at special outreach events in the community. Volunteer support may be needed on weekdays and/or Saturdays — we can work with your schedule.
Docent, Space Foundation Discovery Center—This volunteer position entails greeting and answering visitor questions, in addition to helping visitors enjoy their Discovery Center visit. Docents must be friendly and enjoy working with people of all ages. Docents must be able to learn, retain and relate to Discovery Center-provided information. We also have STEM labs, and we encourage docents to learn and train in these areas to help enhance visitor experiences.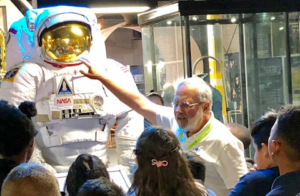 Collections and Accessions of Artifacts—These volunteers assist the Discovery Center Director and Curator/Registrar with the collections, artifacts, and exhibits displayed on the gallery floor. Projects include hands-on care and management of collections, object research, and more. Collections volunteers are detail-oriented, willing to be trained, and follow best-practice procedures. Exhibits and artifacts are an important factor and resource in any museum or center, and the proper care, handling and archiving is an important function of Collections Volunteers.
Team Support and Projects—It takes a lot to support our vision and carry out our mission. Our Education and Discovery Center teams always have many projects of varying size—including hundreds of student field trips—all of which need volunteer support. In addition, there are always administrative projects that need attention for the office.
Facilities Operations Volunteer, Headquarters—Facilities Operations volunteers support the Space Foundation Facilities & Safety department and assist with maintaining the overall integrity and operational functionality of the facility. These volunteers positively impact our mission by providing administrative support, maintaining inventory reports, assisting with moving workplace items and offices. They also provide assistance with a broad spectrum of team maintenance requests and provide support for safety-related issues and objectives.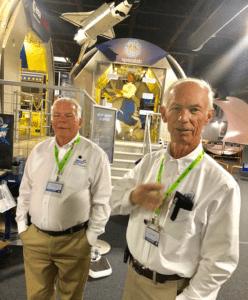 Internal Events Support, Headquarters and Discovery Center—Volunteers that sign up to assist with internal events will help support the Space Foundation mission to provide first-class customer service. An internal events volunteer may perform various functions, such as: assist with setting up a venue, customer support, problem-solving, upkeep of the space during an event, tearing down when an event is finished and making sure our event areas and gallery remain uncompromised. This is a fast-paced area of involvement with great customer service and networking opportunities.
IT (Information Technology) Support, Headquarters and Discovery Center—The Space Foundation mission depends on support from our IT capabilities. The IT Manager will assign tasks and work closely with volunteers to ensure they are on right track with supporting IT-related issues, projects, and facilities requirements. Our IT team works Monday-Friday, 8:00 a.m.-5:00 p.m., so volunteer opportunities would generally fall within business hours.
Exhibit Build Crew for Space Foundation Discovery Center—Exhibit Build Crew volunteers help us take Discovery Center exhibits from concept to reality. Working behind the scenes as a member of the exhibits team, they help install new traveling exhibits, build object stands and create out-of-this-world displays. Exhibit crew shifts occur during Discovery Center hours of operation Tuesday-Saturday, 9:30 a.m.-4:00 p.m. with occasional evening shifts for exhibit installation. You may also volunteer in other areas and still support the exhibit build crew.