Partner News
---
SpaceX and Space Systems/Loral Sign Contract for Falcon 9 Geosynchronous Transfer Mission
Written by: developer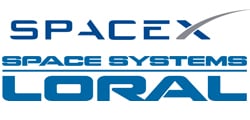 HAWTHORNE, Calif. (March 15, 2010) – Space Exploration Technologies (SpaceX) and Space Systems/Loral (SS/L), have signed an agreement for the launch of an SS/L manufactured satellite aboard a SpaceX Falcon 9 as early as 2012. For this mission, Falcon 9 will launch from the SpaceX launch site at Cape Canaveral and insert the satellite into a geosynchronous transfer orbit (GTO).
Space Systems/Loral (SS/L) is the world's leading provider of GEO commercial satellites with 40 percent of the high-power market since 2004. The company has an international roster of blue-chip customers, and its 1300 model satellite is a decades-proven, modular platform with the industry's highest power capability and the flexibility to support a broad range of applications including high definition television and broadband.
"SpaceX is proud to be selected by Space Systems/Loral as they are one of the premier manufacturers of commercial satellites and the industry leader in satellite sales," said Gwynne Shotwell, President of SpaceX. "With 24 Falcon 9 flights now on manifest, SpaceX has established itself as an excellent partner for both commercial and government customers, and we look forward to supporting Space Systems/Loral on this launch."
"Like SS/L, the SpaceX team is committed to flawless performance and reliability," said John Celli, president of Space Systems/Loral. "We are working closely with SpaceX to ensure the success of a 1300 launch based on our many years of experience.  With numerous Falcon 9 launches on their manifest over the next two years, we are assured of a successful flight history in advance of our mission."
SpaceX's Falcon 9 is a medium-to-heavy lift, two-stage launch vehicle capable of lifting approximately 11 tons to low Earth orbit (LEO) and in excess of 4.5 tons to GTO. Designed to the highest levels of reliability and performance, Falcon 9, along with SpaceX's Dragon spacecraft, were selected by NASA to resupply the International Space Station starting in 2010.
About SpaceX
SpaceX is developing a family of launch vehicles and spacecraft intended to increase the reliability and reduce the cost of both manned and unmanned space transportation, ultimately by a factor of ten. With the Falcon 1 and Falcon 9 vehicles, SpaceX offers highly reliable/cost-efficient launch capabilities for spacecraft insertion into any orbital altitude and inclination. Starting in 2010, SpaceX's Dragon spacecraft will provide Earth-to-LEO transport of pressurized and unpressurized cargo, including resupply to the International Space Station.
Founded in 2002, SpaceX is a private company owned by management and employees, with minority investments from Founders Fund and Draper Fisher Jurvetson. The SpaceX team now numbers more than 900, with corporate headquarters in Hawthorne, California. For more information, please visit the company's web site at www.spacex.com.
About Space Systems/Loral
Space Systems/Loral, a subsidiary of Loral Space & Communications (NASDAQ: LORL), has a long history of delivering reliable satellites and spacecraft systems for commercial and government customers around the world. As the leading provider of commercial satellites, the company works closely with satellite operators to provide spacecraft for a broad range of services including television and radio distribution, digital audio radio, broadband Internet, and mobile communications.  Hundreds of millions of people depend on SS/L satellites every day.  For more information, visit www.ssloral.com.
# # #
Contact:
Emily Shanklin | Director, Marketing and Communications, SpaceX
[email protected]
310.363.6733
This announcement, made by a Space Foundation partner, sponsor, or exhibitor, is posted for information purposes only and does not constitute an endorsement of the products, services, events, or companies it covers.
---
Posted in Partner News