Report from Headquarters
---
From Outer Space to the Internet
Written by: developer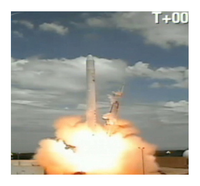 The Internet provides an abundance of space images – from video of the most recent launches to space news that made history. The following are among our favorites.
For anyone who missed the launch of the SpaceX Falcon 9 last month, here's a link to the CNN video.
From YouTube see Stephen Colbert's interview with Garrett Reisman on the International Space Station. Part two is here.
Also on YouTube, see NASA history highlights.
Go back in time to the 1960s to see the abc news report from June 3, 1965, of the first U.S. spacewalk here.
Hear astronaut Ed White describe that spacewalk here.
And finally, a history of spacesuits.
This article is part of Space Watch: July 2010 (Volume: 9, Issue: 7).
---
Posted in Report from Headquarters