Partner News
---
Etonic Stabilizer™ Offers Continuous Comfort Via Heat Management
Written by: developer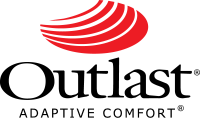 BOULDER, Colo. (Sept. 22, 2010) – Outlast Technologies, leader in heat management and moisture reduction in performance footwear, announces new licensee Etonic is launching its firstever golf shoe lined with Outlast® technology. Etonic has incorporated Outlast® technology in the lining of the 2011 Stabilizer golf shoe to manage heat build up, offering the golfer more comfort.
The new Stabilizer golf shoe features an athletic-inspired design and the latest advancements in footwear technology. Within the shoe, Outlast® technology reduces heat and moisture by as much as 44%. This results in less blistering and odor and helps feet
stay dry and more comfortable -more comfort means better performance on the course.
"The launch of the new Stabilizer golf shoe is a first for us in that it incorporates Outlast's heat and moisture management technology, an essential for comfortable golf shoes," says Kent Wheeler, director of sales and marketing for Etonic Golf Division.
"With the addition of Outlast® technology, we know we are offering our customers the highest in performance, quality and comfort."
How Outlast® Technology Works
Constant movement inside a closed environment, like a golf shoe, generates extra heat and perspiration. Unlike a reactive wicking material that pulls moisture away, Outlast® technology proactively absorbs excess heat and stores it until there is a change in temperature, then releases it as needed. "Throughout 18 holes, golfers experience variations in foot temperature which can lead to blistering and odor," says Heather Manuel, Outlast North America sales and marketing director.
"Outlast® technology manages heat to continuously mitigate temperature swings to
balance foot temperature while on the course."
Stabilizer Golf Shoe Highlights
IN-SHOE
Outlast® lining reduces heat and perspiration build up in the shoe by as much as 44% to keep the foot cool, dry and comfortable
Removable 6mm Polysport™ anti-microbial footbed for resilient cushioning and comfort
UPPER
Micro Tech: microfiber to reduce weight while providing a lasting durable fit
HydroGuard® Waterproof Membrane
Two-year limited waterproof warranty
Aqua-Tite Vents for improved breathability
OUTSOLE
Tri-density TPU Power Up™ Outsole System
Injected EVA Midsole for lightweight comfort and cushioning
PowerSpike™ Cleat by Softspikes®
Fast Twist™ 7 Cleat Insert System Etonic Stabilizer
Available in golf shops and better golf specialty retailers November 2010
Suggested retail price of $150
Two styles–white and black saddle, black and silver saddle
Please visit www.etonic.com for more details.
ABOUT ETONIC
Founded in 1876 by Charles Eaton and headquartered in Westborough, Mass., Etonic builds footwear based on technical innovation, superior quality and ultimate comfort. Etonic offers men's and women's footwear and accessories for golf, running and bowling. For information on Etonic call 1-866-8-ETONIC (386642) or visit www.etonic.com.
ABOUT OUTLAST TECHNOLOGIES, INC.
Outlast Technologies, Inc., a privately held U.S. corporation, is the worldwide leader in phase change materials and applications. Outlast® technology is the heat management technology originally developed for NASA that enables any textile to absorb, store and release heat. Outlast® technology pro-actively responds to changes in skin temperature to manage heat and reduce moisture for everyday comfort. For over 20 years, Outlast has been committed to the development of new fibers, fabrics and coatings incorporating phase change materials, expanding the use of Outlast® technology across more than 200 brands and a multitude of products in apparel, footwear, bedding, packaging and labels and accessories. For more information, please visit www.outlast.com.
---
Posted in Partner News