Space Foundation Press Releases
---
Lei Fanpei is Featured Speaker at the 27th National Space Symposium
Written by: developer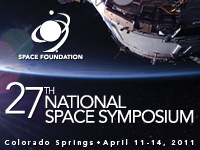 COLORADO SPRINGS, Colo. (Mar. 21, 2011) — Lei Fanpei, vice president, China Aerospace Science and Technology Corp. (CASC), will provide insight into the Chinese space industry as a featured speaker at the Space Foundation's 27th National Space Symposium, to be held April 11-14, at The Broadmoor Hotel in Colorado Springs, Colo. His presentation will be the first at a U.S. conference by CASC. Lei is a senior official in CASC and will head a CASC delegation attending the Symposium. 
The China Aerospace Science and Technology Corporation (中國航天技集團公司) (CASC) is the main contractor for the Chinese space program. It was officially established in July 1999 in Beijing as part of a Chinese government reform drive, having previously been one part of the former China Aerospace Corporation. The program, in various forms, dates back to 1956.
CASC is a large state-owned enterprise group with its own well-known brands, such as Shenzhou and Long March. Along with space and defense, CASC also produces a number of high-end civilian products such as machinery, chemicals, communications equipment, transportation equipment, computers, medical care products and environmental protection equipment. CASC provides commercial launch services to the international market and is one of the world's most advanced organizations in the development and deployment of high energy propellant technology, strap-on boosters and launching multiple satellites atop a single rocket. The corporation has registered capital of 1.1 billion U.S. dollars and employs 110,000 people.
Currently, CASC is constructing a new aerospace industrial system to accelerate the development of its businesses, covering space systems, defense systems, aerospace technology applications and aerospace services.
In addition to the officials from CASC, delegations representing China Great Wall Industry Corp. (CGWIC), China Aerospace Science and Industry Corp. (CASIC) and Chinese Society of Astronautics (CSA) are expected to participate in the Symposium.
About Lei
A rocket engine technology researcher, Lei helped develop Long March booster rocket engines and major model posture controlled engines. As a result of his work, he was awarded the Young Expert of Remarkable Contribution to the Defense Industry as well as the Shaanxi Youth Medal. He was formerly president of Academy of Aerospace Liquid Propulsion Technology (AALPT).
About the 27th National Space Symposium
The premier gathering of the global space community, the annual Space Foundation National Space Symposium brings together all sectors of space to highlight accomplishments and address opportunities and issues facing the global space community today. The 27th National Space Symposium will feature forums, panels, presentations, speeches, special events and ample opportunity to hear from and network with the space community's most influential leaders.
Register Now
Online registration and more information, including agenda, speakers and exhibitors, are available at www.NationalSpaceSymposium.org.
27th National Space Symposium Co-Sponsors
Confirmed co-sponsors include: ADD STAFF; a.i. solutions; Analytical Graphics, Inc. (AGI); ARES Corporation; Arianespace; ATK; Ball Aerospace & Technologies Corp.; Blue Ridge Networks; The Boeing Company; Booz Allen Hamilton; Cisco Systems, Inc.; Euroconsult; Fisher Space Pen Co.; GMV; General Dynamics; IBM; ILA Berlin Air Show; Integral Systems; Intelsat General Corporation; International Academy of Astronautics (IAA); International Space University (ISU); Iridium; Lockheed Martin; Maui Economic Development Board (MEDB); Moog; Northrop Grumman; Paradigm; Pratt & Whitney Rocketdyne; QinetiQ; Raytheon; SAIC; SES World Skies; Space Generation Advisory Council (SGAC) ; SpaceSystems/Loral; SpaceX; Stellar Solutions; Swedish Space Corporation (SSC); United Launch Alliance; and United Space Alliance. Aviation Week; Defense Systems; and Space News International are official media partners. Additional sponsorship opportunities are available; interested companies should contact [email protected].
About the Space Foundation
The Space Foundation is a global, nonprofit organization and the foremost advocate for all sectors of the space industry – civil, commercial, military and intelligence. Founded in 1983, the Space Foundation is a leader in space awareness activities, educational programs that bring space into the classroom, and major industry events, including the National Space Symposium, all in support of its mission "to advance space-related endeavors to inspire, enable and propel humanity." An expert in all aspects of the global space industry, the Space Foundation publishes The Space Report: The Authoritative Guide to Global Space Activity and provides three indices that track daily performance of the space industry. Through its Space Certification and Space Technology Hall of Fame® programs, the Space Foundation recognizes space-based technologies and innovations that have been adapted to improve life on Earth. Headquartered in Colorado Springs, the Space Foundation conducts research and analysis and government affairs activities from its Washington, D.C., office and has field representatives in Houston, Texas, and Cape Canaveral, Fla. For more information, visit www.SpaceFoundation.org. Follow us on Twitter, Facebook and LinkedIn, and read about the latest space news and Space Foundation activities in Space Watch.
# # #
---
Posted in Space Foundation Press Releases