Space Foundation Press Releases
---
27th National Space Symposium will Feature Large Spacecraft
Written by: developer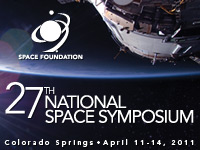 COLORADO SPRINGS, Colo. (Mar. 28, 2011) — There will be more to see than ever before at the Space Foundation's 27th National Space Symposium next month. The sold-out Boeing Exhibit Center has expanded this year to fill three indoor halls plus a brand new outdoor "Showroom" that will feature spectacular examples of space vehicles, including the Boeing Crew Space Transportation (CST-100) spacecraft, the Lockheed Martin Orion Multi-Purpose Crew Vehicle, the Orbital Sciences Corporation Cygnus Spacecraft, and the SpaceX Dragon Spacecraft that was successfully launched and returned to Earth last December. In addition, Hewlett Packard's mobile HP POD will be located adjacent to the Showroom and the Boeing Approach and Landing Test Vehicle will be in front of the Boeing Exhibit Center North.
The premier gathering of the global space community, the 27th National Space Symposium, will be held April 11-14 at The Broadmoor Hotel in Colorado Springs, Colo. The Boeing Exhibit Center will officially open on Monday, April 11, during an evening of events that includes a dramatic opening ceremony featuring a laser light show, performance by young pianist Ethan Bortnick and award presentations, an opening reception in The Boeing Exhibit Center for all attendees.
 
About the Spacecraft
The spacecraft that will be on display in the Boeing Exhibit Center Showroom includes:
The Boeing Company's entry for NASA's Commercial Crew Development program, the Crew Space Transportation (CST-100) spacecraft, will transport up to seven crew members to the International Space Station (ISS) and to private space stations such as the proposed Commercial Space Station from Bigelow Aerospace. The CST-100 comprises a crew module (CM) and a service module (SM) that relies on proven materials and safe and affordable subsystem technologies. For more information, go to www.boeing.com.
The Lockheed Martin Orion Multi-Purpose Crew Vehicle will be capable of safely transferring astronauts to and from the ISS, the Moon, Mars and other destinations beyond low earth orbit (LEO). The display will include a flight simulator that will allow attendees to fly an approach and docking of the Orion to the ISS. Plus, it will include videos and pictures highlighting the progress being made towards the scheduled orbital test flight in 2013 in preparation for crewed operations in 2016. For more information, go to www.lockheedmartin.com.
Orbital Sciences' Cygnus™ advanced maneuvering spacecraft is being developed by Orbital to demonstrate and perform commercial re-supply of the ISS for NASA. Eight missions carrying approximately 20,000 kg of cargo have been authorized between 2011 and 2015. Cygnus will be launched on Orbital's new Taurus® II medium-class launch vehicle. For more information, go to www.orbital.com.
SpaceX's Dragon spacecraft is the first new American human-capable spacecraft to travel to orbit and back since the Space Shuttle took flight three decades ago. In December 2010, following two Earth orbits, Dragon splashed down on target in the Pacific Ocean, becoming the first spacecraft to be reentered and recovered by a commercial company. Developed under the NASA Commercial Orbital Transportation Services (COTS) contract, Dragon will fly a minimum of 12 resupply flights to the ISS following Space Shuttle retirement. Designed to eventually carry astronauts, Dragon's first trips to the ISS will carry cargo (including live plants and animals). With the U.S. soon dependent on the Russian Soyuz to carry astronauts at a price of over $60 million per seat, SpaceX says that Dragon's "flight-proven reliability makes it the most readily available solution to meet this need — at less than half the cost." For more information, visit www.spacex.com.
Hewlett Packard's HP Performance Optimized Datacenter (POD) provides scalable, efficient and ready-to-use data center capacity to help customers deal with rising costs and power, cooling and space. To learn more, go to http://www.hp.com/go/pod.
The Boeing Approach and Landing Test Vehicle (ALTV) is a predecessor of the Boeing-built X-37B, which became the United States' first unmanned vehicle to return from space and land on its own in December 2010. The design combines the best of aircraft and spacecraft into an affordable, unmanned space-based test platform. The ALTV successfully completed three test flights in 2006 where it was released from the White Knight carrier aircraft at altitudes greater than 30,000 feet in order to validate the guidance and landing performance of the X-37B Orbital Test Vehicle. The ALTV guidance algorithms and aerodynamic performance were validated by successful landings at Edwards AFB, Calif. Program objectives include space experimentation, risk reduction and concept-of-operations development for reusable space vehicle technologies. For more information, go to www.boeing.com.
Exhibit Center Sponsor
The Exhibit Center is sponsored by The Boeing Company, a leading space and defense business and the world's largest and most versatile manufacturer of military aircraft. Boeing also is the world's largest satellite manufacturer, an emerging leader in support systems and services and a leading global supplier of human space exploration systems and services.
The Boeing Company has customers in more than 90 countries around the world and is a top U.S. exporter. Headquartered in Chicago, Ill., Boeing employs more than 159,000 people across the United States and in 70 countries.
About the 27th National Space Symposium
The 27th National Space Symposium will feature forums, panels, presentations, speeches, special events and ample opportunity to hear from and network with the space community's most influential leaders.
Online registration and more information, including agenda, speakers and exhibitors, are available at www.NationalSpaceSymposium.org.
About the Space Foundation
The Space Foundation is a global, nonprofit organization and the foremost advocate for all sectors of the space industry – civil, commercial, military and intelligence. Founded in 1983, the Space Foundation is a leader in space awareness activities, educational programs that bring space into the classroom, and major industry events, including the National Space Symposium, all in support of its mission "to advance space-related endeavors to inspire, enable and propel humanity." An expert in all aspects of the global space industry, the Space Foundation publishes The Space Report: The Authoritative Guide to Global Space Activity and provides three indices that track daily performance of the space industry. Through its Space Certification and Space Technology Hall of Fame® programs, the Space Foundation recognizes space-based technologies and innovations that have been adapted to improve life on Earth. Headquartered in Colorado Springs, the Space Foundation conducts research and analysis and government affairs activities from its Washington, D.C., office and has field representatives in Houston, Texas, and Cape Canaveral, Fla. For more information, visit www.SpaceFoundation.org. Follow us on Twitter, Facebook and LinkedIn, and read about the latest space news and Space Foundation activities in Space Watch.
---
Posted in Space Foundation Press Releases