Report from Headquarters
---
Psoria-Shield is New Space Certification Partner
Written by: developer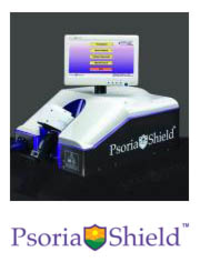 The Space Foundation welcomes Psoria-Shield as its newest Space Certification program partner. Based in Tampa, Fla., Psoria-Shield produces a medical device to treat a range of problematic skin disorders. The Psoria-Light medical device uses Deep Ultra Violet Light Emitting Diode (UVLED) technology, offering targeted UVA/ NB-UVB phototherapy for fast and effective treatment of psoriasis, eczema and vitiligo.
The Space Foundation's Space Certification program recognizes products originally developed for space that have been adapted to improve life on Earth. Psoria-Shield joins a prominent list of companies that carry Space Certification status.
About Psoria-Shield
Psoria-Shield's unique emitter adapts deep UVLED technology jointly developed and utilized for photoelectron generation projects by Stanford University, NASA Ames Research Center, NASA Goddard Space Flight Center and the European Space Agency (ESA).
The original technology was developed in part for the Laser Interferometer Gravitational-Wave Ground Observatory (LIGO) (Laser Interferometer Ground Observatory) and LISA (Laser Interferometer Space Antenna) projects for photoelectron generation as part of the charge management system for gravitational wave measurement systems. Psoria-LightTM technology incorporates a multitude of deep UVLEDs sufficient to offer high-dosage, therapeutic, targeted UVA and NB-UVB phototherapy.
Learn more about Psoria-Shield at www.psoria-shield.com. For further information please contact Edwin T. Longo at [email protected], (386) 214-4593, or Scot L. Johnson at [email protected], (866) 725-0969.
About Space Certification
The Space Foundation launched the Space Certification program in 1996 to demonstrate how products and services developed for space improve life on Earth. This unique branding program allows qualifying products and services to display the official Space Certification seal and to benefit from cooperative marketing programs.
The Space Foundation works closely with NASA to identify and validate products and services eligible for recognition. There are three classifications of Space Foundation Certified Products:
Certified Technology Products – Products or services that directly result from space technology or space program development such that the product exists because of advances in space technology;
Certified Educational Products – Products used in educational environments to stimulate interest and knowledge about space; and
Certified Imagination Products – A toy or entertainment product used to increase interest in and excitement for space and inspire new generations to take an active interest in space.
For more information, go to www.SpaceConnection.org.
This article is part of Space Watch: May 2011 (Volume: 10, Issue: 5).
---
Posted in Report from Headquarters