Report from Headquarters
---
Symposium Hosts Students and Teachers
Written by: developer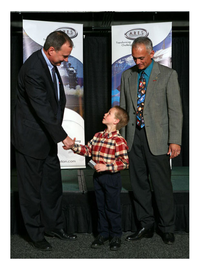 The Space Foundation hosted nearly 1,800 local students and 95 teachers from 18 states at a number of education activities at the 27th National Space Symposium in Colorado Springs in April. The programs included educator professional development, national recognition of an outstanding educator, a surprise teacher grant announcement, student tours and sessions including "Audience with an Astronaut" and "An Introduction to Chinese Culture and Space Activities."
The "An Introduction to Chinese Culture and Space Activities" session gave a group of 140 local students who are studying the Mandarin language insight into the Chinese space program as presented by a Chinese delegation attending the Symposium.
Teacher Professional Development
National Space Symposium education activities annually include a full-day workshop for Space Foundation Teacher Liaisons, a group of nationally recognized educators who serve as active links between the Space Foundation, NASA and their schools and school districts. This year, more than 20 of the teachers also participated in a professional development tour of the Colorado Springs-based business NAVSYS. Read more about the tour here.
Now in its eighth year, the prestigious, nationally recognized Space Foundation Teacher Liaison program is for PreK-20 educators who inspire the next generation of students to pursue and excel in science, technology, engineering and math (STEM) by using space-related themes, programs and projects in the classroom.
Student Involvement
Local students visited the 27th National Space Symposium's Boeing Exhibit Center and participating in educational sessions. "Audience with an Astronaut" sessions were co-sponsored by ADD STAFF and Maui Economic Development Board, Inc., (MEDB), and gave students the opportunity to hear first-hand about the space travels of NASA astronauts, including:
Capt. Robert L. Curbeam, Jr., USN (Retired)
Col. Michael T. Good, USAF (Retired)
Richard J. Hieb
William F. Readdy
The Alan Shepard Technology in Education Award
James E. Richmond, superintendent of Charles County Public Schools (CCPS) in Maryland, was honored at the Symposium's opening ceremony by the Astronauts Memorial Foundation (AMF), NASA and the Space Foundation as the winner of the 2011 Alan Shepard Technology in Education Award. CCPS has worked closely with the Space Foundation to bring space-related STEM programs to teachers and students. See more about Richmond and the award here.
United Space Alliance Innovation in Education Grant
United Space Alliance (USA) partnered with the Space Foundation to present two checks for $5,000 to Space Foundation Teacher Liaisons who applied for the first-time grant by submitting student project plans to promote STEM subjects in the classroom.
USA awarded the grant to fund innovative classroom activities, to inspire and foster a passion for STEM-related learning. Teacher Liaisons competed for the grant by creating space-based classroom lessons and activities around the theme, "Human Space Travel in the Year 2020," and submitting a plan that outlined materials needed, estimated cost and learning objectives. According to USA, there were 22 applications submitted and the competition was very close.
The results were so impressive that instead of offering one $5,000 grant as originally planned, USA also awarded a second grant. By selecting an additional project, the grants will benefit elementary, middle and high school levels in two different school districts.
One grant was awarded to a team of four teachers from Center, Colo.:
Gail Martinez, Skoglund Middle School
Kathleen Newmyer, Center Consolidated School District
Diego Martinez and Daniel Newmyer, Center High School
The other grant was awarded to Stephanie Kawamura of Pine Lane Elementary-North, Parker, Colo.
Student Art Contest
New to the 27th National Space Symposium this year was a student art contest co-sponsored by ARES Corporation, Fisher Space Pen Co. and the Space Foundation. Prek-12 students were invited to submit original artwork depicting the theme, "Human Space Travel in the Year 2020," resulting in entries from more than 150 students in 13 states.
Winners were recognized at a special ceremony on April 13 at the Symposium. Each winning artist received a Fisher Space Pen and a ribbon. Each grand prize winner also received an art kit from ARES Corporation. Winning entries were displayed at the Symposium outside of the ARES Education Auditorium in the Boeing Exhibit Center Lower Level. Read more about the student art contest here.
Pictured: Landon Vidmar, from Howbert Elementary, Colorado Springs, was third place winner in the PreK-2 drawing category of the new student art contest at the 27th National Space Symposium. He was congratulated by former NASA astronauts Richard Hieb and Danny Olivas.
This article is part of Space Watch: June 2011 (Volume: 10, Issue: 6).
---
Posted in Report from Headquarters