Space Foundation Press Releases
---
We Want Our Future is New Space Foundation Space Certification Educational Product Partner
Written by: developer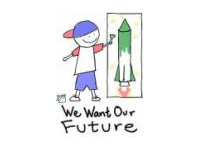 COLORADO SPRINGS, Colo. (Jun. 14, 2011) — The Space Foundation welcomes the We Want Our Future initiative as its newest Certified Educational Product partner.
Launched and managed by University of Colorado graduate students and based in Boulder, Colo., the We Want Our Future initiative is a worldwide outreach project that challenges students to dream about what they want their future to look like – specifically with respect to space. This project, which exclusively promotes space exploration as a generational priority, is a "for students, by students" initiative that calls attention to the necessity of space in our collective future. The initiative combines art and creativity with science and technology in an effort to inspire future STEM (science, technology, engineering and mathematics) leaders and increase overall space and technology literacy among the planet's youth. 
We Want Our Future is a grassroots program that works with teachers, students, authors, producers and astronauts to develop and distribute outreach materials that challenge and motivate young children to dream about and have the courage to work towards their futures.
The materials, which include an introduction letter from former NASA astronaut Joe Tanner and a short, inspirational video highlighting the benefits of exploration, are distributed free via www.wewantourfuture.org. 
Students participating in the program are asked to imagine future space-related careers where science, technology, engineering and math are important, and to express their ideas through postcard drawings and short written explanations of why that future is important and inspiring. The drawings are then sent to We Want Our Future, which uses them to promote continued space exploration.
"This program has grown and expanded in ways we never could have imagined when it was created," said We Want Our Future Executive Director Bradley Cheetham. "We have amazing submissions from students across the planet depicting an exciting future of space exploration."
"In reviewing student submissions, volunteers often find themselves inspired by the unfettered dreams of today's students; it really shows that many students are hungry for the opportunity to dream and be creative," said Director of Operations Matthew Cannella.
Cheetham and Cannella are both pursuing Ph.D.s in aerospace engineering sciences at the University of Colorado Boulder. Currently, 13 other students from around the country are involved with the management of the program.
About Certified Educational Products
Certified Educational Products are selected by the Space Foundation and identified as those used in educational environments to stimulate interest and knowledge about space. Education is key to the mission of the Space Foundation and supporting these products inspires each new generation.
Space Foundation Certified Educational Products include:
For more information, go to www.SpaceConnection.org.
About Space Certification
The Space  Foundation launched the Space Certification program in 1996 to demonstrate how products and services developed for space improve life on Earth. This unique branding program allows qualifying products and services to display the official Space Certification seal and to benefit from cooperative market programs.
The Space Foundation works closely with NASA to identify and validate products and services eligible for recognition. There are three classifications of Space Foundation Certified Products: 
Certified Technology Products – Products or services that directly result from space technology or space program development such that the product exists because of advances in space technology; 

Certified Educational Products – Products used in educational environments to stimulate interest and knowledge about Space; and 

Certified Imagination Products – A toy or entertainment product used to increase interest in and excitement for space and inspires new generations to take an active interest in space.
About the Space Foundation
The Space Foundation is a global, nonprofit organization and the foremost advocate for all sectors of the space industry – civil, commercial, military and intelligence. Founded in 1983, the Space Foundation is a leader in space awareness activities, educational programs that bring space into the classroom, and major industry events, including the National Space Symposium, all in support of its mission "to advance space-related endeavors to inspire, enable and propel humanity." An expert in all aspects of the global space industry, the Space Foundation publishes The Space Report: The Authoritative Guide to Global Space Activity and provides three indices that track daily performance of the space industry. Through its Space Certification and Space Technology Hall of Fame® programs, the Space Foundation recognizes space-based technologies and innovations that have been adapted to improve life on Earth. Headquartered in Colorado Springs, the Space Foundation conducts research and analysis and government affairs activities from its Washington, D.C., office and has field representatives in Houston, Texas, and Cape Canaveral, Fla. For more information, visit www.SpaceFoundation.org. Follow us on Twitter, Facebook and LinkedIn, and read about the latest space news and Space Foundation activities in Space Watch.
---
Posted in Space Foundation Press Releases