Space Foundation Press Releases
---
Space Foundation Holds Education, "New Generation" Events at AMOS Conference in Maui
Written by: developer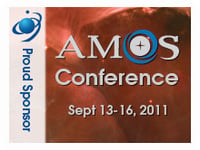 COLORADO SPRINGS, Colo. (Sep. 7, 2011) — The Space Foundation is emphasizing the future of space with programs at the 12th annual Advanced Maui Optical and Space Surveillance Technologies (AMOS) Conference in Maui, Hawai'i.
Involvement includes a reception for young space professionals, education programs for teachers and students. In addition, Space Foundation Vice President – Washington Operations Brendan Curry is on the AMOS Conference agenda, speaking about the current state of affairs with respect to space policy. The conference, a program of the Maui Economic Development Board, Inc. (MEDB), runs Sept. 13-16, 2011.
New Generation Reception
Young space professionals can relax and network after the first full day of the conference at a Pau Hana (after work) networking reception on Sept. 14, presented by the Space Foundation and co-sponsored by the MEDB. The event is part of the Space Foundation's New Generation Initiative, which provides professional development and networking opportunities to college students and professionals aged 35 and under.
Education Programs
As another part of its extensive education programs that inspire students and teachers by improving science, technology, engineering and mathematics (STEM) skills, the Space Foundation will conduct sessions for school children and a Space in the Classroom workshop for teachers from the Maui area.
On Sept. 15, 300 students from Maui-area schools will participate in an Audience with an Astronaut session with former NASA astronaut Leroy Chiao, Ph.D, where they will hear about his space career, ask questions and have their pictures taken with him. In addition the students will also participate in hands-on activities conducted by the Air Force Research Lab (AFRL) as well as touring the AMOS Exhibit Center where they will see the latest in space surveillance technology.
On Sept. 16, about 30 middle and high school teachers will participate in a Space in the Classroom workshop co-sponsored by the Space Foundation and MEDB in association with AFRL, Alaka'ina Foundation's Digital Bus, Analytic Graphics, Inc. (AGI), The Boeing Company, University of Hawai'i Institute for Astronomy (IfA), Lockheed Martin, Maui High Performance Computing Center (MHPCC), Northrop Grumman, Orbital, Pacific Defense Solutions (PDS) and United Launch Alliance (ULA).
The workshop, which will show teachers how to incorporate space activities into the classroom, will cover GPS and geocaching, Mission to Europa underwater ROVs, replicating real space programs that are looking for signs of life on other planets, a Create an Alien activity and an overview of Space Foundation programs. The workshop is based on the Space Foundation's Space Across the Curriculum courses, which teach a variety of space-related topics that teachers can then apply in the classroom.
The conference hotel, Wailea Beach Marriott Resort & Spa, is donating the lunches and Presentation Services Audio Visual is donating AV equipment for the education programs.
During the programs, the Space Foundation is also informing teachers about the opportunity to apply for the Lucy Enos scholarship, which provides professional development opportunities for a qualified Hawaiian educator, including tuition, fees, travel expenses and lodging for the recipient to travel to Colorado Springs and participate in one of the Space Foundation's week-long Space Across the Curriculum courses.
About the AMOS Conference
Devoted to space surveillance, the AMOS Conference presents a cross-section of military, contractor and academic participation in the field of space situational awareness. For more information, go to: www.amostech.com
About the Space Foundation
The Space Foundation is an international organization and the foremost advocate for all sectors of the space industry – civil, commercial, military and intelligence. Founded in 1983, the nonprofit organization is a leader in space awareness activities, educational programs that bring space into the classroom and major industry events, including the National Space Symposium, all in support of its mission "to advance space-related endeavours to inspire, enable and propel humanity." An expert in all aspects of the global space industry, the Space Foundation publishes The Space Report: The Authoritative Guide to Global Space Activity and provides three indices that track daily performance of the space industry. Through its Space Certification and Space Technology Hall of Fame® programs, the Space Foundation recognizes space-based technologies and innovations that have been adapted to improve life on Earth. Headquartered in Colorado Springs, the Space Foundation conducts research and analysis and government affairs activities from its Washington, D.C., office and has field representatives in Houston, Texas, and Cape Canaveral, Fla. For more information, visit www.SpaceFoundation.org. Follow us on Twitter, Facebook, and LinkedIn, and read about the latest space news and Space Foundation activities in Space Watch.
---
Posted in Space Foundation Press Releases