Partner News
---
Aerojet Delivers 50th Flight-Ready Solid Rocket Booster to United Launch Alliance
Written by: developer

SACRAMENTO, Calif. (April 17, 2012) – Aerojet, a GenCorp (NYSE: GY) company, announced today that it has delivered the 50th Solid Rocket Booster (SRB) to United Launch Alliance (ULA) in support of the Atlas V launch vehicle.
The 50th-delivered SRB, along with two additional boosters, is scheduled to help launch a future mission in 2013. Aerojet won the Atlas V SRB contract in 1999 and delivered its first successful flight for the July 2003 launch of Rainbow 1, a commercial communications satellite.
"To date, 41 Aerojet boosters have flown on 15 Atlas missions, helping power planetary exploration and orbital placement missions," said Pete Cova, executive director, Space and Launch Systems. "Our team of engineers and production personnel has provided the commitment and technical expertise to design, build and fly a truly state-of-the-art SRB, while driving 100 percent mission success."
Aerojet SRBs are an integral part of the Atlas V launch vehicle fleet. Depending on payload weight and mission requirements, the Atlas V can receive supplemental launch thrust from up to five Aerojet SRBs attached to the common core booster.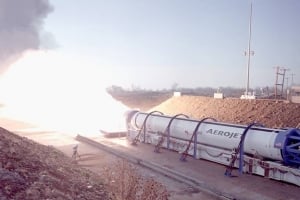 The design of the Aerojet SRB boasts a set of unique metal attachment fixtures which bolt directly to the Atlas V. Each 67-foot long, 5-foot wide composite motor case contains more than 90,000 lbs of propellant providing more than 375,000 lbs of liftoff thrust. In the maximum 551 configuration, the SRBs increase the launch thrust of ULA's Atlas V rocket by more than 1.9 million pounds. This 551 configuration successfully launched the U.S. Navy's Mobile User Objective System (MUOS-1) earlier this year.
"Due to the unique, relatively simple nature of the vehicle configuration options and wide range of launch capabilities, the Atlas V has proven to be an effective, affordable launch system," said Aerojet's Brad Bates, Atlas V SRB program director. "Aerojet is committed to producing reliable and affordable SRBs for the vehicle as it continues to perform for the future."
The next scheduled Atlas V launch is the AEHF-2 mission scheduled in early May. The launch vehicle will rely on three Aerojet SRBs to provide an additional 1.1 million pounds of thrust at liftoff.
Aerojet is a world-recognized aerospace and defense leader principally serving the missile and space propulsion, defense and armaments markets. GenCorp is a leading technology-based manufacturer of aerospace and defense products and systems with a real estate segment that includes activities related to the entitlement, sale, and leasing of the company's excess real estate assets. Additional information about Aerojet and GenCorp can be obtained by visiting the companies' websites at http://www.Aerojet.com and http://www.GenCorp.com.
###
Contact:
Glenn Mahone, Aerojet, 202.302.9941
[email protected]
Kristin Conner, Aerojet, 916.355.2143
[email protected]
---
Posted in Partner News