Space Symposium
---
Lt. Gen. Pawlikowski is Acquisition Luncheon Speaker
Written by: developer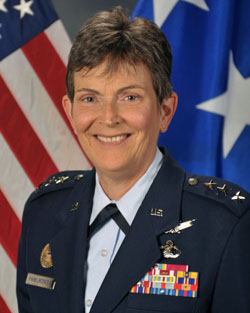 Lt. Gen. Ellen M. Pawlikowski, USAF, commander, Space and Missile Systems Center, Air Force Space Command, will discuss the importance of space to national security at the final luncheon of the Space Foundation's four-day 29th National Space Symposium.
The Acquisition Luncheon will be held on Thursday, April 11, at The Broadmoor Hotel in Colorado Springs, Colo., co-sponsored by United Launch Alliance.
Pawlikowski was the featured speaker at last year's Acquisition Luncheon, and she will continue her message for this year's attendees, addressing budget reductions and priorities in the current global space environment.
About Pawlikowski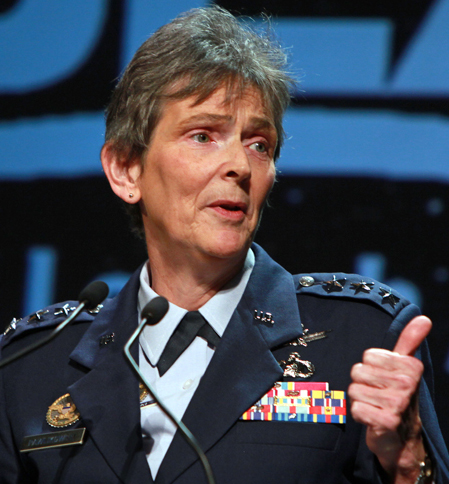 As the U.S. Air Force program executive officer for space, Pawlikowski manages research, design, development, acquisition and sustainment of satellites and the associated command and control systems. Previously, she was commander, Air Force Research Laboratory, Wright-Patterson AFB, Ohio; deputy director, National Reconnaissance Office, Chantilly, Va.; and vice commander, Space and Missile Systems Center, Los Angeles AFB. She holds a bachelor's degree in chemical engineering from New Jersey Institute of Technology, Newark, and a doctoral degree in chemical engineering from University of California, Berkeley.
Special Rate for Military and Government Personnel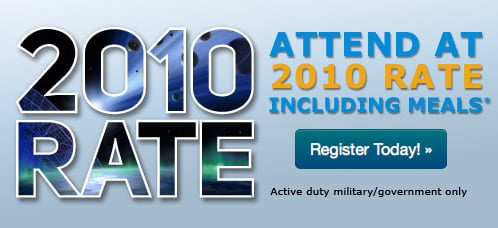 The Space Symposium will be held April 8 -11 at The Broadmoor Hotel, and is expected to bring together more than 9,000 global participants from all sectors of the space spectrum to address opportunities and issues.
The Space Foundation has adjusted our rate for active duty military and government personnel who register for the Space Symposium, lowering the cost to 2010 pricing. The government/military rate for the four-day Space Symposium is now $790.
The active duty military and government personnel rate includes admission to Symposium general sessions and receptions and to the Lockheed Martin Exhibit Center, plus one ticket to each dinner and a ticket to one luncheon. This special rate does not apply to contractors who work for or with the government or military.
A separate Cyber 1.3 event will be held on Monday, April 8, at The Broadmoor Hotel and requires separate registration. The active government/military rate for Cyber 1.3 is just $395. Or, when combined with Space Symposium registration, the total for both events is $1,140.
Luncheon Tickets
The Acquisition Luncheon fills quickly, so early registration for the Space Symposium and advance meal ticket selection is encouraged. Additional meal tickets may be purchased. See details about Space Symposium registration and meal selection at www.NationalSpaceSymposium.org/register, which includes a live chat tab for customer service questions.
This article is part of Space Watch: March 2013 (Volume: 12, Issue: 3).
---
Posted in Space Symposium