Partner News
---
Thuraya Opens Communcation Lines for Freelance Journalists Through its Thuraya IP+ Terminal
Written by: developer

DUBAI, United Arab Emirates (March, 13, 2013) – Thuraya Telecommunications Company, a leading Mobile Satellite Services operator, in partnership with the Rory Peck Trust, a non-profit independent organization dedicated to the support, safety and welfare of freelance news gatherers, have come together to sponsor award-winning freelance journalist, Sebastian Meyer.
T. Sanford Jewett, Vice President of Marketing at Thuraya said: "Thuraya is proud to sponsor Sebastian and his work. In tough environments where he operates, communications infrastructure can be unreliable or insecure. Many leading global news organizations currently rely on Thuraya's technology to deliver breaking news. We believe that the Thuraya IP+ will provide Sebastian with an added layer of security and protection, in addition to facilitating his work by allowing him to file breaking news stories with videos and photos on time. The Thuraya IP+'s "always-on' mobile broadband access and asymmetric streaming capabilities allows him to stay in close contact with his loved ones too."
Sebastian Meyer, freelance photographer, multimedia journalist and co-founder of Iraq's first and only photo agency called Metrography said: "Infrastructure here in Iraq is in terrible shape with electricity cuts part of our daily life. For reporters and photographers who need to file their work on time, this can be a serious problem as communication lines often fail. Thuraya's IP+ satellite broadband terminal for Metrography will be a significant help in delivering stories from corners of the country often cut off from electricity and the Internet."
Tina Carr, Director of the Rory Peck Trust concurred: "Safety and security are of utmost importance for freelance journalists today. We are pleased to partner with Thuraya in providing mobile satellite connectivity to Sebastian to help him in stay connected and support his work in delivering important stories from the region."
To follow Sebastian's journey and find out how he benefits from Thuraya IP+ in his work, please follow us at www.thuraya.com and also follow us on our social media channels.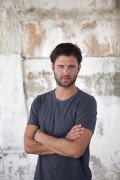 About Sebastian Meyer
Based in Erbil, Iraq, Sebastian Meyer (pictured, right) is an American freelance photographer and multimedia journalist. He has co-founded Metrography, the Iraq's first and only photo agency that use local photographers to cover stories across the country. Sebastian's work has been published in the New York Times, Time Magazines, Sunday Times Magazine and the Telegraph, among others. He also gained significant recognition with awards such as the Magenta Flash Forward Emerging Photographer, FotoVisura Grant for Outstanding Personal Photography Project and an Exposure Award for Documentary. Visit www.sebmeyer.com
About The Rory Peck Trust
The Rory Peck Trust is the only organization in the world dedicated to the safety and welfare of freelance newsgatherers and their families. Working in over 60 countries, the Trust provides financial assistance to freelancers who have been injured, imprisoned or threatened during the course of their work, and to the families of those who have been killed. The Trust collaborates with international and local partners on small, in-country projects that educate and protect freelancers, and provides safety training bursaries to freelancers working in hostile environments. The Trust is also a source of information and advice on issues including insurance, risk assessment, safety and trauma, and producer of the prestigious Rory Peck Awards, which honour freelance camera operators in news and current affairs. As a non-profit, non-partisan organization, The Rory Peck Trust relies entirely on charitable donations and sponsorship to carry out its work. Visit www.rorypecktrust.org.
About Thuraya Telecommunications Company
Thuraya Telecommunications Company is an industry leading MSS operator and a global telecommunication provider offering innovative communications solutions to a variety of sectors including energy, broadcast media, maritime, military and NGO.
Thuraya's superior network enables clear communications and uninterrupted coverage across two thirds of the globe by satellite and across the whole planet through its unique GSM roaming capabilities. The company's diverse range of technologically superior and highly reliable mobile satellite handsets and broadband devices provide ease of use, value, quality and efficiency. Thuraya remains committed to serving humanity through delivering the essential tools for optimal connectivity, never leaving anyone out of reach. Visit www.thuraya.com.
# # #
For further information please contact:
Shereen Hanafi
Director of Communications
Thuraya
Tel: + 971-4-4488-888
Email: [email protected]
Molly Clarke
Head of Communications
The Rory Peck Trust
Tel: +44 203 219 7861
Email: [email protected]
---
Posted in Partner News