Space Symposium
---
Register by April 25 for Discounted Rate on Standard Industry Registration
Written by: developer
Expect full government participation at this year's 30th Space Symposium, plus an unprecedented number of international speakers and panelists. The 30th Space Symposium will be held May 19-22 at The Broadmoor Hotel in Colorado Springs, Colo., USA, and a discount is currently available on standard industry registration, if paid by April 25, 2014.
The Space Symposium website provides information in 71 languages, and includes the complete agenda and speakers list, plus registration information at www.SpaceSymposium.org.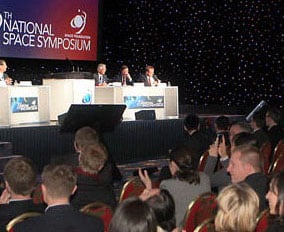 Speakers and panelists include more than 100 top civil and military space leaders, featuring:
Col Dominique Arbiol, FAF, Deputy Commander, Joint Space Programme, Ministry of Defence, France
Col. Neal Barlow, USAF, Acting Chief Scientist, Air Force Space Command, United States Air Force Academy
Charles F. Bolden, Jr., NASA Administrator
Blake Bullock, Director, Civil Air and Space, Business & Advanced Systems Development Northrop Grumman Aerospace Systems
Lt. Gen. James R. Clapper, Jr., USAF (Ret.), Director of National Intelligence
Matthew J. Desch, Chief Executive Officer, Iridium Communications, Inc.
Eric Fanning, Under Secretary of the Air Force, USAF
BG Jeffrey A. Farnsworth, USA, Deputy Commanding General for Operations, US Army Space and Missile Defense Command (USASMDC)/Army Forces Strategic Command (ARSTRAT)
Michael C. Gass, President and Chief Executive Officer, United Launch Alliance
Dave Gallagher, Director for Astronomy and Physics, NASA Jet Propulsion Laboratory
Samer Halawi, Chief Executive Officer, Thuraya Telecommunications Company
Yasushi Horikawa, Ph.D., Chairman, United Nations Committee on the Peaceful Uses of Outer Space
Roger A. Krone, President of Network and Space Systems, The Boeing Company
Letitia A. Long, Director, National Geospatial-Intelligence Agency
John C. Mather, Ph.D., Nobel Laureate, Senior Project Scientist, James Webb Space Telescope, NASA
Matt Mountain, Ph.D., Director, Space Telescope Science Institute
Walter J. Natynczyk, (General, CA, Ret.), President, Canadian Space Agency
Dr. Ger Nieuwpoort, Director, Netherlands Space Office
Lt. Gen. John W. "Jay" Raymond, USAF, Commander, 14th Air Force
Sara Seager, Ph.D., MacArthur Fellow, Professor of Planetary Science and Physics, Massachusetts Institute of Technology
Gen. William L. Shelton, USAF, Commander, Air Force Space Command
Vlada Shilina, Associate Vice President, International Strategy & Business Development Aerospace Industries Association of Canada (AIAC)
Brig. Gen. Roger W. Teague, USAF, Director of Strategic Plans, Programs and Analyses, Air Force Space Command
Maj. Gen. Martin Whelan, USAF, Director of Requirements, Headquarters Air Force Space Command
Deborah Westphal, Managing Director, Toffler Associates
Co-sponsors
The Space Symposium officially kicks off Monday evening, May 19, with a spectacular opening ceremony, co-sponsored by Northrop Grumman. Other co-sponsors include: a.i. solutions; Aeroflex Microelectronic Solutions; Aerojet Rocketdyne; Airbus Group, Inc.; Arianespace; ATK; Ball Aerospace & Technologies Corp.; Booz Allen Hamilton; Colorado Space Business Roundtable (CSBR); El Pomar Foundation; Exelis; Government Executive Media Group; Intelsat General Corporation; Lockheed Martin; MetiSpace Technologies, Inc.; Millennium Engineering and Integration Company; Moog Inc.; Orbital Technologies Corporation (ORBITEC); PAE; Raytheon; Scitor Corporation; Secure World Foundation; SES Government Solutions; SLS and Orion Industry Team; Space Generation Advisory Council (SGAC); SpaceX; Spincraft; SSL; Stellar Solutions,Inc.; The Boeing Company; The SI Organization; United Launch Alliance; and Universities Space Research Association (USRA); Aviation Week, SatNews Publishers; SpaceNews and TechBriefs Media Group are media partners.
This article is part of Space Watch: April 2014 (Volume: 13, Issue: 4).
---
Posted in Space Symposium