Space Symposium
---
Find Out Who's Investing in Space
Written by: developer
The world's top civil, military and commercial space leaders will be at the Space Foundation's 32nd Space Symposium, April 11-14, 2016, at The Broadmoor in Colorado Springs, Colo., USA. The four-day Symposium is the leading international space conference for discussing the most pressing global space issues.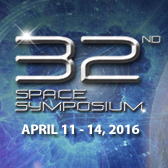 One of the discussions will be "Who's Investing in Space," moderated by Hoyt Davidson, Founder and Managing Member, Near Earth LLC, and with panelists:
Chad Anderson, Managing Director, Space Angels Network
Carissa Bryce Christensen, Managing Partner, The Tauri Group
Chris Quilty, Senior Vice President, Raymond James & Assoc.
A discount on standard industry registration is currently in effect until March 11. See registration information here.
Co-sponsors
a.i. solutions; Aerojet Rocketdyne; Aerus; Arianespace, Inc.; ASRC Federal; BAE Systems; Colorado Space Coalition; El Pomar Foundation; FLUOR; Intelsat General Corporation; Lockheed Martin Space Systems Co.; Northrop Grumman; Raytheon; Scitor Corporation; Secure World Foundation; SES Government Solutions; Stellar Solutions; United Launch Alliance (ULA). Aviation Week Network and Space News are official media partners.
This article is part of Space Watch: February 2016 (Volume: 15, Issue: 2).
---
Posted in Space Symposium