Space Foundation Press Releases
---
The Space Report Reveals 2018 Global Space Economy Exceeded $400 Billion for the First Time
Written by: Space Foundation Editorial Team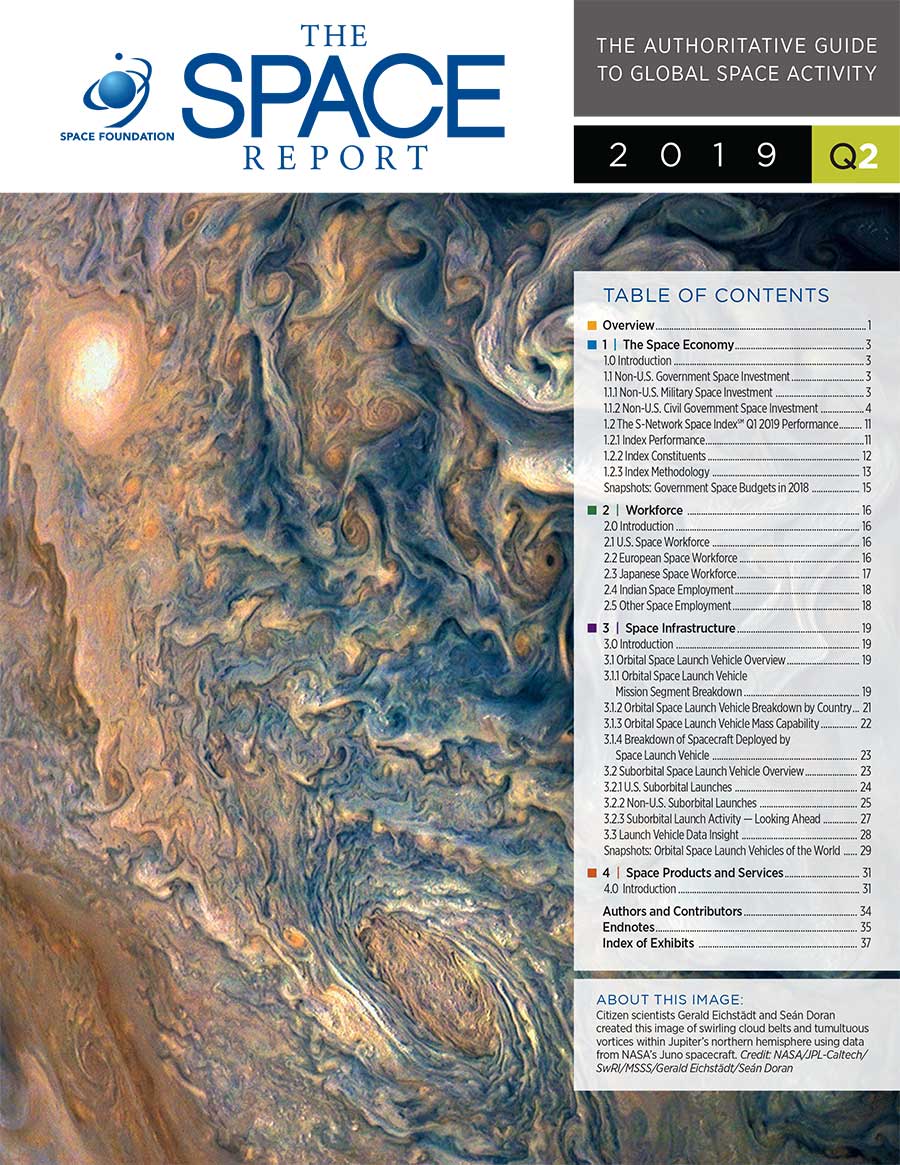 Space Foundation's The Space Report shares second quarter findings
Detailed account of global launches in 2018
Report on the global space workforce
COLORADO SPRINGS, Colo. (July 15, 2019) – Today, the Space Foundation published its second-quarter findings of its 2019 issue of The Space Report, revealing that:
The global space economy grew 8.1% in 2018 to $414.75 B, exceeding $400 B for the first time.
Global launches in 2018 increased by 46% over the number of launches a decade ago.
Global launches in 2018 exceeded 100 for the first time since 1990.
The Space Report is widely recognized as the definitive body of information about the global space industry. It contains worldwide space facts and figures, and is illustrated with photographs, charts, and graphs detailing the benefits of space exploration and utilization, the challenges facing the space sector, opportunities for future growth, and the major factors shaping the industry. It serves as a resource for government and business leaders, educators, financial analysts, students, and space-related businesses.
The Space Foundation's Research and Analysis team produces The Space Report, and earlier this year transitioned its annual summary into quarterly updates of global space activity. This new format makes it possible to provide the most up-to-date information on space infrastructure, facilities, launches, and programs. Similar to other major economy-measuring indicators that inform our awareness of what is happening around the world, the quarterly installments of The Space Report are designed to improve our discussions and understanding of the reach, impact, and health of the space community.
The Space Report is available for purchase by the public for $250 per quarter, or $499 for all four quarters at www.thespacereport.org/pricing. The full PDF is also available to subscribers of The Space Report Online. The online service also provides subscribers with searchable access to all the research conducted for The Space Report dating back to 2005.
Media interested in purchasing The Space Report should contact the Space Foundation at [email protected] for a discount code that will allow you to receive all four quarters for $99 annually.
About the Space Foundation
Founded in 1983, the Space Foundation is a 501(c)(3) nonprofit and the world's premier organization to inspire, educate, connect, and advocate on behalf of the global space community. It is a leader in space awareness activities, educational programs, and major industry events, including the annual Space Symposium. Space Foundation headquarters is in Colorado Springs, Colo., USA, and has a public Discovery Center, which includes El Pomar Space Gallery, Northrop Grumman Science Center featuring Science On a Sphere®, and the Lockheed Martin Space Education Center. The Space Foundation has a Washington, D.C., office and field representatives in Houston and on the Florida Space Coast. It publishes The Space Report: The Authoritative Guide to Global Space Activity, and through its Space Certification™ and Space Technology Hall of Fame® programs, recognizes space-based innovations that have been adapted to improve life on Earth. Visit both of our websites – www.SpaceFoundation.org and DiscoverSpace.org – and follow us on Facebook, Twitter, Instagram, LinkedIn, and YouTube.
# # #
Space Foundation contact:  
Carol Hively, Director – Public Relations & Team Communications
Monday, July 15, 2019
---
Posted in Space Foundation Press Releases