Space Foundation News
---
Public Invited to Reserve Tickets Now for Women's Global Gathering Luncheon
Written by: Space Foundation Editorial Team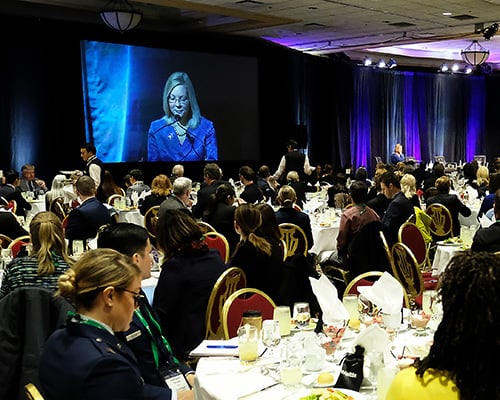 Luncheon will feature Sensoria I HI-SEAS Mars Simulation mission crew panel
To be held April 2, during 36th Space Symposium at The Broadmoor
Reserve tickets in advance
COLORADO SPRINGS, Colo. (March 5, 2020) – The public is invited to register now to attend the Space Foundation's fourth annual Women's Global Gathering Luncheon at The Broadmoor on Thursday, April 2. The Luncheon will feature a panel discussion by the all-female Sensoria I HI-SEAS Mars Simulation mission crew (also known as the "Sensoria 6," for its six members):
Adriana Blachowicz
Erin Bonilla
2nd Lt. Makiah Eustice, USAF
J. Hastings
Maraia Hoffman
Sian Proctor
"We invite the public to join us for this rare opportunity to meet the women of the first Sensoria HI-SEAS Mars simulation mission and to celebrate the ever-expanding role of women in all aspects of space, from exploration to space commerce," said Shelli Brunswick, Space Foundation Chief Operating Officer and founder of the Women's Global Gathering.
The Sensoria I mission crew spent Jan. 4 through 18, 2020, in isolation at the Hawaii Space Exploration Analog and Simulation (HI-SEAS) habitat at Mauna Loa volcano in Hawaii. Besides being the first all-female mission at HI-SEAS, it was also unique for its focus on:
holistic, interdisciplinary approaches to modeling the wellness of life in the habitat;
microbiome research in partnership with NASA JPL;
crew cohesion pretraining activities;
the use of crafts and other artistic endeavors as therapeutic tools;
testing of nonverbal communication strategies for extravehicular activities; and
investigating analog astronaut fatigue on extravehicular activities with Embry-Riddle Aeronautical University.
Sponsorship for the Women's Global Gathering is provided by L3Harris Technologies.
The Women's Global Gathering Luncheon at the 36th Space Symposium is open to men and women, as well as to Symposium registrants and non-registrants. Reserve luncheon tickets now at https://bit.ly/32ATWno.
Learn more about the 36th Space Symposium by visiting www.spacesymposium.org/.
About the Space Foundation
Founded in 1983, the Space Foundation is a 501(c)(3) nonprofit and the world's premier organization to inspire, educate, connect, and advocate on behalf of the global space community. It is a leader in space awareness activities, educational programs, and major industry events, including the annual Space Symposium. Space Foundation headquarters is in Colorado Springs, Colo., USA, and has a public Discovery Center, including El Pomar Space Gallery, Northrop Grumman Science Center featuring Science On a Sphere®, and the Lockheed Martin Space Education Center. The Space Foundation has a Washington, D.C., office, as well as field representatives in Houston and on the Florida Space Coast. It publishes The Space Report: The Authoritative Guide to Global Space Activity, and through its Space Certification™ and Space Technology Hall of Fame® programs, recognizes space-based innovations that have been adapted to improve life on Earth. Visit both websites — www.SpaceFoundation.org and DiscoverSpace.org — and follow us on Facebook, Twitter, Instagram, LinkedIn, and YouTube.
# # #
Space Foundation contact:
Carol Hively, Director – Public Relations & Team Communications
[email protected]
---
Posted in Space Foundation News