Education
---
Space Foundation Announces New Auxilia Webinar Series to Support Teachers, Parents, and Students
Written by: Space Foundation Editorial Team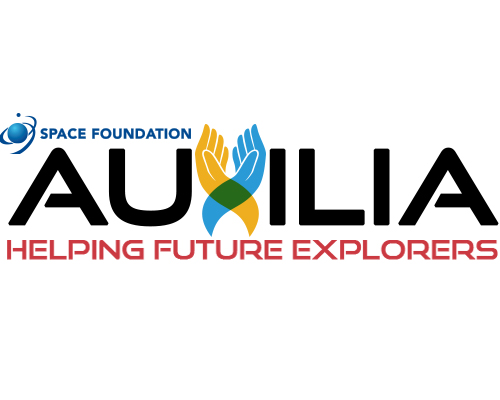 COLORADO SPRINGS, Colo. (April 1, 2020) — The Space Foundation's team of educators has created a new webinar series now available free online to help teachers and parents keep students engaged in learning while at home. The webinars cover such information as how to use Zoom, write grants, create a scale Play-Doh solar system, map with LIDAR, the basics of telescopes, and making space-themed crafts.
The webinar series is called Auxilia, which is Latin for helping hands, so named because the Space Foundation is sharing its helping hands, as well as its educators' talents, experiences, and insights to engage audiences in a range of subjects to inspire the next generation of explorers, entrepreneurs, and innovators.
In announcing the new Auxilia webinar series, Space Foundation Vice President for Education Bryan DeBates said, "Space has a place for everyone and by sharing the Space Foundation's skills and talents, and the inspiration that space brings, we want to empower people to discover and learn how they can take their place in this unfolding universe."
Starting April 1st, there will be a regular series of webinars posted to DiscoverSpace.org. Led by the Space Foundation's Space Education Specialists, each of these sessions will help educators and parents introduce not just the traditional space-aligned topics of science, technology, engineering, and mathematics, but also art, history, business, and more.
These webinars and content will include:
Train Like an Astronaut, March 31st
Space Crafts LIVE: Corkboard Constellations, April 1st
3D Astronomy, April 6th
Working in Space. April 13th
Virtual Audience with an Astronaut, April 15th
New topics will be posted multiple times a week, with all of the produced content available online for free at any time. A full listing of content is available at https://www.discoverspace.org/.
The Space Foundation supports efforts to develop critical thinking skills and prepare young people and educators for the scientific challenges and opportunities of the 21st Century. Find the Auxilia webinar series, as well as free virtual lessons and downloadable lesson plans, at https://www.discoverspace.org/
About the Space Foundation
Founded in 1983, the Space Foundation is a 501(c)(3) nonprofit and the world's premier organization to inspire, educate, connect, and advocate on behalf of the global space community. It is a leader in space awareness activities, educational programs, and major industry events, including the annual Space Symposium. Space Foundation headquarters is in Colorado Springs, Colo., USA, and has a public Discovery Center, including El Pomar Space Gallery, Northrop Grumman Science Center featuring Science On a Sphere®, and the Lockheed Martin Space Education Center. The Space Foundation has a Washington, D.C., office, as well as field representatives in Houston and on the Florida Space Coast. It publishes The Space Report: The Authoritative Guide to Global Space Activity, and through its Space Certification™ and Space Technology Hall of Fame® programs, recognizes space-based innovations that have been adapted to improve life on Earth. Visit both websites — www.SpaceFoundation.org and DiscoverSpace.org — and follow us on Facebook, Twitter, Instagram, LinkedIn, and YouTube.
# # #
Space Foundation contact:
Carol Hively, Director – Public Relations & Team Communications
[email protected]
---
Posted in Education