Discover Space
---
Calling All Student Artists for an Out-of-This-World Competition
Written by: Space Foundation Editorial Team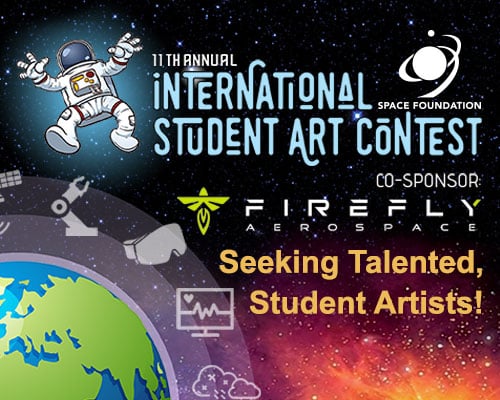 Submission Period Now Open for Space Foundation's 11th Annual International Student Art Contest
2021 contest theme is "How Space Technology Helps Improve Life on Earth"
Student artists ages 3–18 are invited to enter
Entries are due by noon Universal Time (12:00 UTC), on December 31, 2020
COLORADO SPRINGS, Colo. — September 10, 2020 — Space Foundation, a 501(c)(3) global space advocate for 37 years, today announced the opening of the 11th Annual International Student Art Contest. Students around the world are invited to submit their original artwork on the 2021 theme, "How Space Technology Helps Improve Life on Earth." Student artists may draw, paint, or create a mixed media or digital work of art, and submit it online for entry.
The Annual International Student Art Contest inspires young people to use their creative gifts and curiosity to explore the wonders of space and the exciting possibilities in science, mathematics, engineering, and technology (STEM) fields. It is a chance for students to explore their interests and showcase their talents, as well as an opportunity for parents, teachers, and communities to spark a love of STEM in young people through the lens of space.
"When students are exposed to STEM through the energizing potential and future in space, it ignites a lifelong love of learning and exploration," said Shelli Brunswick, COO of Space Foundation. "Today's young people are tomorrow's innovators, entrepreneurs, and leaders. The Annual International Student Art Contest is a way to celebrate students and inspire them to reach for the stars."
The contest is sponsored by Firefly Aerospace of Austin, Texas, an emerging commercial space leader who is developing a family of launch vehicles and in-space services that provide industry-leading affordability, convenience, and reliability.
"Space is the next frontier of the information revolution," said Firefly CEO Dr. Tom Markusic. "Through innovative uses of space, we expand knowledge, information, and opportunities for all of us on Earth. We are excited to see the artwork that the next generation of space entrepreneurs will create for this contest."
All students ages 3–18 are invited to enter. There will be 25 winners — first, second, and third place for each of eight age categories, and one young artist will receive the Space Foundation Achievement Award. Winning artwork will be displayed and shared across the world, including at the Space Foundation headquarters and Discovery Center, on the Space Foundation and contest websites, on social media, and at the 36th Space Symposium in Colorado Springs, Colo.
There is no cost to participate. The deadline to submit entries is noon Universal Time (12:00 UTC), December 31, 2020. Artwork must be submitted online by the student's teacher, parent, or legal guardian, age 18 or older. To learn more, and to submit entries visit Art.SpaceFoundation.org. For general contest questions, please email Space Foundation at [email protected].
About Space Foundation
Space Foundation is a 501(c)(3) nonprofit advocate for the global space community. Through a partnership model, its Center for Innovation and Education unites the entire spectrum of global stakeholders, including public and private businesses, government agencies, educational institutions, and local communities, to serve the entire life cycle of the workforce, from students and young leaders to entrepreneurs and professionals. Best known for its annual Space Symposium, attended by 15,000 space professionals from around the world, Space Foundation also publishes The Space Report, its quarterly authoritative guide to research and analysis of the space industry. Headquartered in Colorado Springs, Colo., Space Foundation's Discovery Center offers rich programming on-site and online for teachers, parents, and students. Visit Space Foundation at www.SpaceFoundation.org, and follow us on Facebook, Twitter, Instagram, LinkedIn, and YouTube.
About Firefly Aerospace
Firefly is developing a family of launch and in-space vehicles and services that provide industry-leading affordability, convenience, and reliability. Firefly's launch vehicles utilize common technologies, manufacturing infrastructure, and launch capabilities, providing low Earth orbit launch solutions for up to four metric tons of payload at the lowest cost/kg in the small-lift class. Combined with Firefly's in-space vehicles, such as the Orbital Transfer Vehicle and Genesis Lander, Firefly provides the space industry with a one-stop shop for missions to the surface of the Moon or beyond. Headquartered in Cedar Park, Texas, Firefly has additional presence in Washington, D.C., and Vandenberg, Calif. Firefly is financed by Noosphere Ventures of Menlo Park, Calif.
###
All brand names and product names are trademarks or registered trademarks of their respective companies.
Tags: Space Foundation, Student Art Contest, STEM education, space technology, space innovation, lifelong learning, student artist, Firefly Aerospace
Media Contact:
Rich Cooper
Vice President, Strategic Communications & Outreach
Space Foundation
(202) 596-0714
[email protected]
[email protected]
---
Posted in Discover Space